Mind
Feeling Good Home Page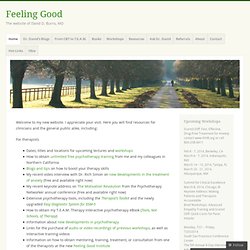 Welcome to my new website. I appreciate your visit. Here you will find resources for clinicians and the general public alike, including: For therapists Dates, titles and locations for upcoming lectures and workshopsHow to obtain unlimited free psychotherapy training from me and my colleagues in Northern CaliforniaBlogs and tips on how to boost your therapy skillsMy recent video interview with Dr. Rich Simon on new developments in the treatment of anxiety (free and available right now)My recent keynote address on The Motivation Revolution from the Psychotherapy Networker annual conference (free and available right now)Extensive psychotherapy tools, including the Therapist's Toolkit and the newly upgraded Easy Diagnostic System for DSM-5How to obtain my T.E.A.M.
Timothy D. Wilson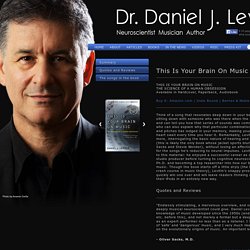 Think of a song that resonates deep down in your being. Now imagine sitting down with someone who was there when the song was recorded and can tell you how that series of sounds was committed to tape, and who can also explain why that particular combination of rhythms, timbres and pitches has lodged in your memory, making your pulse race and your heart swell every time you hear it. Remarkably, Levitin does all this and more, interrogating the basic nature of hearing and of music making (this is likely the only book whose jacket sports blurbs from both Oliver Sacks and Stevie Wonder), without losing an affectionate appreciation for the songs he's reducing to neural impulses.
This is your brain on music — Dr. Daniel J. Levitin
The Happiness Hypothesis - Jonathan Haidt
This is a book about ten Great Ideas. Each chapter is an attempt to savor one idea that has been discovered by several of the world's civilizations -­ to question it in light of what we now know from scientific research, and to extract from it the lessons that still apply to our modern lives. It is a book about how to construct a life of virtue, happiness, fulfillment, and meaning.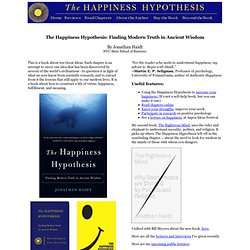 Teaching Interests and Areas of Expertise Creativity and Innovation, Managing Flow Current Research Interests Professor Csikszentmihalyi is the founder and co-director of the Quality of Life Research Center (QLRC).
Mihaly Csikszentmihalyi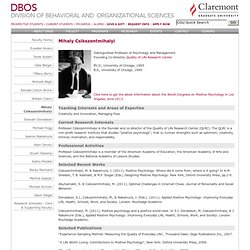 Mihaly Csikszentmihalyi on flow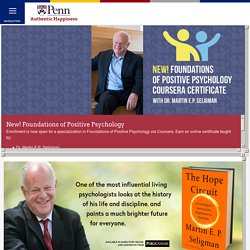 Welcome to Authentic Happiness Authentic Happiness is the homepage of Dr. Martin Seligman, Director of the Positive Psychology Center at the University of Pennsylvania and founder of positive psychology, a branch of psychology which focuses on the empirical study of such things as positive emotions, strengths-based character, and healthy institutions. This website has more than 2 million users from around the world, and you are welcome to use all of the resources available here for free.