Webseiten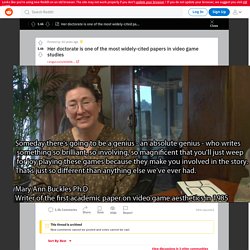 A subreddit for anything related to games (but not sports ). "Related" means that posts must contain gaming-related content in the link/post body, not just a "forced" connection via the title or a caption added to the content. "Generic" image macros/memes (where the character itself is not related to gaming) like Scumbag Steve, Good Guy Greg, etc. will be removed. Something that "reminds you of a game", or "looks like something from a game" is also not an appropriate submission. /r/Games - Informative content
Her doctorate is one of the most widely-cited papers in video game studies : gaming
Das Böse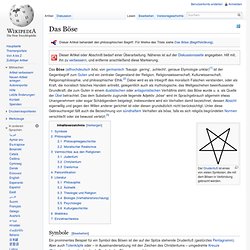 Das Böse (althochdeutsch bôsi, von germanisch *bausja- 'gering', 'schlecht', genaue Etymologie unklar)[1] ist der Gegenbegriff zum Guten und ein zentraler Gegenstand der Religion, Religionswissenschaft, Kulturwissenschaft, Religionsphilosophie, und philosophischer Ethik.[2] Dabei wird es als Inbegriff des moralisch Falschen verstanden, oder als Kraft, die moralisch falsches Handeln antreibt, gelegentlich auch als mythologische, das Weltgeschehen beeinflussende Grundkraft, die zum Guten in einem dualistischen oder antagonistischen Verhältnis steht; das Böse wurde u. a. als Quelle der Übel betrachtet. Das dem Substantiv zugrunde liegende Adjektiv "böse" wird im Sprachgebrauch allgemein etwas Unangenehmem oder sogar Schädigendem beigelegt, insbesondere wird ein Verhalten damit bezeichnet, dessen Absicht eigenwillig und gegen den Willen anderer gerichtet ist oder diesen grundsätzlich nicht berücksichtigt.
Das Gute ist im allgemeinen Sprachgebrauch gewöhnlich eine unscharfe Bezeichnung für den Inbegriff oder die Gesamtheit dessen, was zustimmend beurteilt wird und als erstrebenswert gilt. Im Vordergrund steht dabei die Vorstellung des im ethischen Sinn Guten, auf das man mit guten Taten abzielt. In der Philosophie hat der Begriff des Guten traditionell sowohl in der Metaphysik als auch in der Ethik eine wichtige Rolle gespielt. Zahlreiche moderne Philosophen bestreiten aber die philosophische Relevanz von Aussagen, in denen etwas als gut bezeichnet wird. Eine metaphysische Bedeutung erhält das Gute in einer Vielzahl von Modellen, die ethischen Normen und damit auch dem Guten eine objektive Realität zuschreiben. Solche Modelle führen moralische Forderungen auf ein göttliches Gesetz oder auf eine objektive Wertordnung zurück.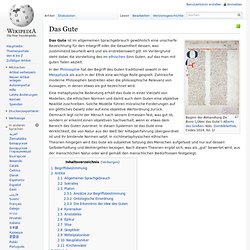 Das Gute
Philosophy Through Video Games
Penny Arcade! - To Catch A Predator: Rapture
The Philosophy of Computer Games Conference in Potsdam May 8-10, 2008 » Abstracts / Videos
Dominic Arsenault Richard A. Bartle Ian Bogost Gordon Calleja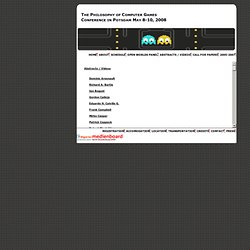 Zentrum für Computerspielforschung – Digital Games Research Center RSS » News
The sixth volume of the DIGAREC Series holds the contributions to the DIGAREC Keynote-Lectures given at the University of Potsdam in the winter semester 2009/10. With contributions by Mark J.P. Wolf (Concordia University Wisconsin), Espen Aarseth (Center for Computer Games Research, IT University of Copenhagen), Katie Salen (Parsons New School of Design, New York), Laura Ermi and Frans Mäyrä (University of Tampere), and Lev Manovich (University of Southern California, San Diego). DIGAREC Keynote-Lectures 2009/10 Espen Aarseth, Lev Manovich, Frans Mäyrä, Katie Salen, Mark J. P.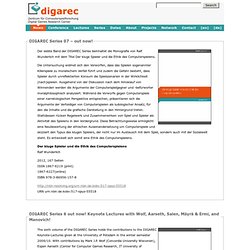 digarec01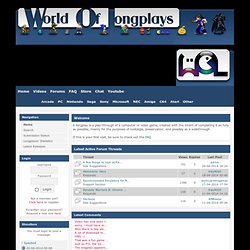 World of Longplays - News - Backup FTP server now available! - News
There might be still some small problems here and there, but those will be fixed eventually. Update - This should now be fixed, request away! -Password reset is not working atm - be patient, it will be fixed eventually Now here is the important part - almost 17000 spam bots were deleted from the old database, this meant that some people who also had 0 post were also deleted (collateral damage) and had to be manually readded. If you are one of those people, and you cant login anymore, please contact us on IRC via the chat button on the top! For everyone else who had posted on the forums before, you should be still able to login!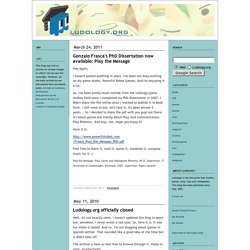 When I created Ludology.org back in 2001, there weren't almost no online resources for people interested in undertanding videogames from a critical point of view, bridging the game industry and the academia. Things have changed since then (boy, if the have changed!) Basically, I originally built Ludology.org because I needed something that simply was not available. A few years later, I co-founded WaterCoolergames with Ian for the same reason: I wanted a good resource on serious games.
Ludology.org