Cooking
The Best Chef's Knife for Most Cooks | The Sweethome. The Swiss aren't renowned for their kitchen knives, but based on the $30 Victorinox Fibrox 8-Inch Chef's Knife ., they should be.
In head-to-head test , the Victorinox beat out a comparable blade from notable German manufacturer Henckels, which cost three times as much. It's not the best bar-none, but you won't find anything that performs this well without spending at least twice as much money. You'll want a knife that suits your current skill level and budget, but won't hold you back as you improve Buying a chef's knife is a lot like buying a musical instrument.
There will be a lot of variation, even among instruments of the same kind. Mushroom Risotto.
Full Bellies, Happy Kids. Dill ranch oyster crackers. This is our first post from: the food of Memorial Day weekend....in my head, that was stated loud and fast like the host of The Soup announcing "It's reality show clip time!!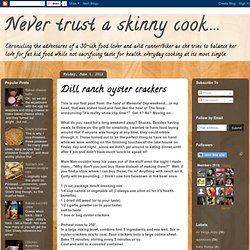 " Get it? No? Moving on... What do you need for a long weekend away? 87 Make-ahead Freezer Meal Recipes. Pork. Chicken. Eggs. Beef. Vegetables.
Fish.
---