Cooking
The Best Chef's Knife for Most Cooks | The Sweethome
The Swiss aren't renowned for their kitchen knives, but based on the $30 Victorinox Fibrox 8-Inch Chef's Knife ., they should be. In head-to-head test , the Victorinox beat out a comparable blade from notable German manufacturer Henckels, which cost three times as much.
Mushroom Risotto
Full Bellies, Happy Kids
This is our first post from: the food of Memorial Day weekend....in my head, that was stated loud and fast like the host of The Soup announcing "It's reality show clip time!!" Get it? No? Moving on... What do you need for a long weekend away?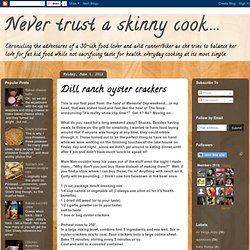 Dill ranch oyster crackers