Facebook Fan Page
With over 500 million users and over fifty percent of those users logging in daily, Facebook is a platform that's proven to be effective for building community online.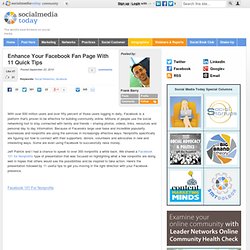 Enhance Your Facebook Fan Page With 11 Quick Tips
9 Ways to Enhance Your Facebook Fan Page
Facebook fan pages number among the few social media channels that allow page customization for users. Instead of a mediocre interface, business owners and professionals can now apply HTML code to enhance their Facebook fan page presence to promote and build business branding . Rich content creates a memorable interface that gets people talking, lets a special announcement or contest go viral, improves fans' engagement and so much more. To create an important hub to reach out to millions of potential supporters, you need to up your game and optimize your fan page to meet its ultimate purpose.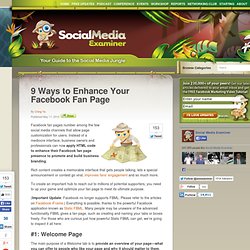 If you build a Facebook Page, will fans come? This is the great hope for many businesses. However, fans do not magically appear from the Facebook mist. People must be lured to your fan page .