Useful applications
Cubescape - Your own digital landscape
Download Microsoft Mouse Mischief (Thai) Before you may install or use the software you must accept the license terms below. If you do not accept the license terms, installations will not proceed.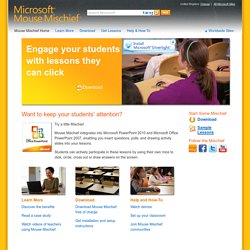 Mouse Mischief Home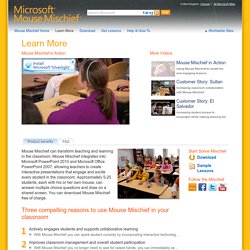 Learn More | Microsoft Mouse Mischief
Q. What is Mouse Mischief? Mouse Mischief is an add-in for Microsoft PowerPoint 2010 and Microsoft Office PowerPoint 2007 that allows teachers to create and play multiple-mouse lessons that students interact with on a single display, individually or in teams, by using their own mice.
El plagio: Cómo detectarlo Por María Teresa Zaidlearn , a quien sigo en Twitter, recomienda un artículo de GuidetoOnline School.com que contiene interesante data sobre el plagio en los Estados Unidos. Es así que, el 80% de los estudiantes universitarios admiten haber acudido a este engaño al menos una vez; 52% de 1.800 estudiantes de nueve universidades estatales, han copiado frases de páginas web sin citarlas; más de 1.400 estudiantes de 21 facultades copiaron o plagiaron el trabajo realizado por otro estudiantes; 15% de los estudiantes universitarios admiten haber conseguido trabajos en páginas web; 50% de los estudiantes de secundaria entrevistados por Rutgers Univesity señalaron que no veian nada extraordinario en este engaño; 90% de los estudiantes creen que quienes plagian nunca son atrapados o nunca son amonestados.
12 herramientas para detectar textos plagiados