International
The Campaign for Co-operation | Co-operatives UK Website
www.ecosolux.lu : Accueil
weeu.eu -
Nouvelles d'ici La Coalition pour le logement communautaire lance une campagne en faveur d'un plan d'investissements de cinq ans dans le programme AccèsLogis Québec, permettant de développer un minimum de 3 000 nouveaux logements par année pour les ménages à faible et modeste revenu La Coalition pour le logement communautaire, qui réunit cinq organisations nationales des secteurs de l'habitation communautaire et de l'économie sociale, lance une campagne afin d'inciter les pouvoirs publics québécois à investir davantage et à plus long terme dans le développement de logements sociaux et communautaires de qualité. Les besoins actuels en matière de logement sont extrêmement importants et présents partout au Québec. Plus »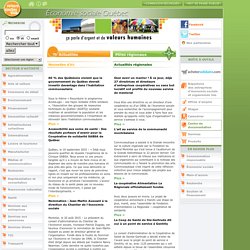 Employment-Unemployment | Activelink
Création du Conseil National de l'Economie Sociale au Portugal (CNES)
Le Conseil des Ministres Portugais a adopté, ce jour, le 4 août 2010, la création du Conseil National de l'Economie Sociale (CNES) - Résolution n°55/2010, D.R. n°150, Série I de 2010.08.04-. ContexteC'est au cours de la réunion du Conseil des Ministres Portugais du 4 février dernier, que le Gouvernement Portugais avait décidé d'approuver et de stimuler «le développement de l'économie sociale », et ce par l'intermédiaire de du Programme d'Appui au Développement de l'Economie Sociale (PADES). Il avait également confié, par décret (16/2010) la gestion de certaines de ces mesures à la Coopérative Antonio Sergio pour l'Economie Sociale (CASES), et prévu notamment l'instauration du Conseil National de l'Economie Sociale.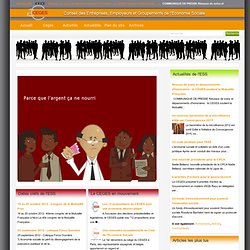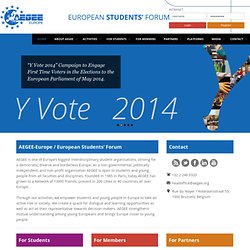 AEGEE-Europe | AEGEE - European Students Forum - Association
AEGEE-Europe / European Students' Forum AEGEE is one of Europe's biggest interdisciplinary student organisations, striving for a democratic, diverse and borderless Europe. As a non-governmental, politically independent, and non-profit organisation AEGEE is open to students and young people from all faculties and disciplines. Founded in 1985 in Paris, today AEGEE has grown to a Network of 13000 friends, present in 200 cities in 40 countries all over Europe. Through our activities, we empower students and young people in Europe to take an active role in society. We create a space for dialogue and learning opportunities as well as act as their representative towards decision-makers.