Scrapbooking
Video Demos by Tim Holtz
tattered angels
Creating Keepsakes Blog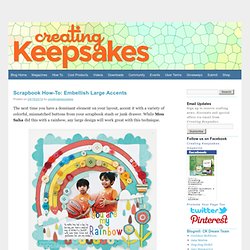 Scrapbook How-To: Embellish Large Accents The next time you have a dominant element on your layout, accent it with a variety of colorful, mismatched buttons from your scrapbook stash or junk drawer. While Mou Saha did this with a rainbow, any large design will work great with this technique. Closer look Posted in How-Tos Tagged Creating Keepsakes, Creating Keepsakes blog, Creating Keepsakes magazine, make scrapbook layouts, make scrapbook pages, Scrapbook, scrapbook layout, scrapbook layouts, scrapbook page, scrapbook pages, Scrapbooking, scrapbooks, stretch your supplies
It's the moment we have ALL been waiting for–Tattered Angels is proud to release our newest addition to the TA family, Tattered Tangles, a collection of papers that inspires coloring inside of the lines and thinking outside of the box. When we were thinking about our newest line under the Tattered Angels brand, we had two objectives in mind: 1. Create a line that served as a starting place, but was open enough to let one's creativity run free 2.
Tattered Angels | Creators of Glimmer Mist and Scrapbooking Supplies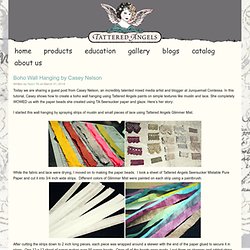 One Stop Craft Challenge
Good evening guys, sorry for delay in posting (i haven't forgotten). First I would like to say thank you to all who left lovely comments, it means so much, thank you to all that joined in our last challenge. Also a massive thank you to our very talented design team who I am sad to loose but of course we will all be around in blog land. So the final winner of the Spots and Dots challenge picked at random is...... With this lovely card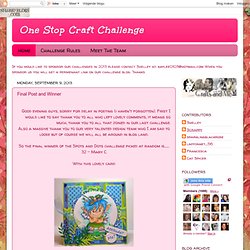 Forums - Club CK - The Online Community and Scrapbook Club from Creating Keepsakes
The Paper Place Online Storefront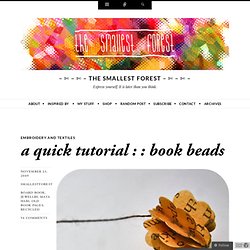 I haven't added any text instructions, because I think the photos are clear enough. All that's left to do know is make a whole heap of these, in different shapes (but always symmetrical shapes!) and sizes, and stringing them up.
Origami Cherry Blossom Tutorial ⬇⬇Expand for more info! ⬇⬇ Hi people! in this video I will show you how to make a cherry blossom from 1 piece of paper. If you need to learn to make a pentagon, please check out my recent video on that and come back :) http://www.youtube.com/watch?
We hope Jennifer Casa's Something Special Card + Envelope Tutorial inspires you to create something beautiful for someone you love. Learn more about Jennifer in her introduction, and make a visit to JCasa*handmade part of your daily routine. After you make the basic card + envelope as a foundation piece you can then embellish, embroider, quilt, print… Do something to make it unique! Mix things up, and personalize your card to make it the perfect something for your special someone.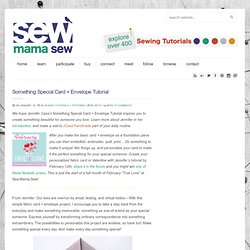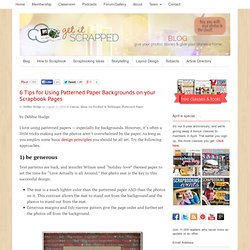 6 Tips for Using Patterned Paper Backgrounds on your Scrapbook Pages | Get It Scrapped!
by Debbie Hodge I love using patterned papers — especially for backgrounds. However, it's often a little tricky making sure the photos aren't overwhelmed by the paper. As long as you employ some basic design principles you should be all set. Try the following approaches. 1) be generous