Nails
China-Glaze-Beauty-and-the-Beach.jpg (JPEG Image, 700x324 pixels)
I've posted my gradient nails on this blog before (see them in pink and green ) and have been meaning to do this tutorial for ages. I had initially wanted to make a video but alas, I have no idea how to film/edit... so I hope this pictorial will help explain things! My version of the gradient nail look doesn't require sponges like many other tutorials; however, you will probably need some patience at the beginning as there are lots of polishes and multiple layers involved.
alison*elle: nail art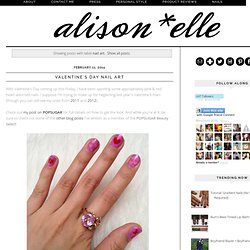 Aless in Beautyland
Dr. Frankenpolish
DizzyNails
The other day I was thinking about my favorite vampy colors, and I remembered Dior Purple Revolution. I was looking for it on my blog, here, but couldn't find it. What the heck?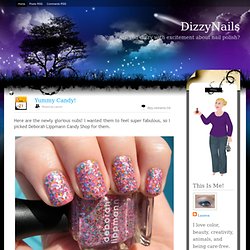 BeautyLuxe | Accessible Beauty for Every Woman
A place for my nails.
Pinch of Pretty » Page 2
I love Wet N Wild's redone Megalast line. The bottles are a perfect size and I like the brush (when I don't end up with wonky ones). I have a couple from the core collection so seeing these on a new display I knew I had to have them all. The collection is named Pick Your Poison so of course all the names are dark or morbid. I'm cool with that because I really like some of the colors.
Giveaway נוצץ במיוחד לערב הסילבסטר ! נכון, לנו יש את ראש השנה שלנו ואת התאריך העברי, אבל אני באופן אישי חוגגת גם את התאריך הזה מאחר וביום יום אני משתמשת בלוח הלועזי וגם כי זו עוד סיבה למסיבה ! ומה חייבים במסיבה טובה ?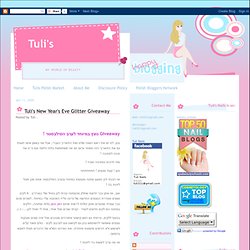 Tuli's New Year's Eve Glitter Giveaway
20 טיפות צבע
Home - Community Nail Polish Gallery
Lacquerized - A blog about nail polish
Nails by Asami
Tough as nails (especially if they're pink) - the nail care thread
The Lacquer Files: Stamping Polish Database
TheLacquerFiles' Photostream
WAH NAILS
We are making some updates to the site. We'll be back soon, thanks for your patience. Estamos haciendo algunos cambios a la página. Estaremos de vuelta pronto, gracias por su paciencia. เรามีการปรับปรุงบางเว็บไซต์ เราจะกลับมาเร็ว ๆ นี้ขอบคุณสำหรับความอดทนของคุณ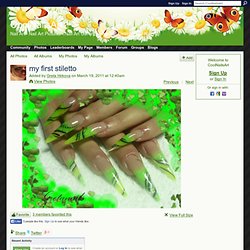 my first stiletto - CoolNailsArt