Nails
China-Glaze-Beauty-and-the-Beach.jpg (JPEG Image, 700x324 pixels)
Last month, Clinique introduced an innovative new line of nail polish, A Different Nail Enamel for Sensitive Skins, which is currently creating a lot of buzz in the beauty world. However, if your initial reaction is similar to mine, you're probably wondering what effect nail polish could possibly have on the skin since, as we all know, it goes on our nails. L-R: Hula Skirt, Strappy Sandals, Summer in the City, Black Honey, Base/Top Coat
alison*elle: nail art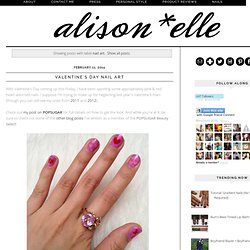 Aless in Beautyland
Dr. Frankenpolish
DizzyNails
The other day I was thinking about my favorite vampy colors, and I remembered Dior Purple Revolution. I was looking for it on my blog, here, but couldn't find it. What the heck?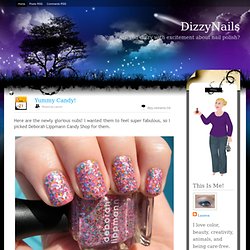 BeautyLuxe | Accessible Beauty for Every Woman
A place for my nails.
Pinch of Pretty » Page 2
With the new year comes the resolutions- weight loss, toning up, eating right. These are all great for your mind and body, but sometimes you can use a little supplemental help. That's where StriVectin's new product, the StriVectin-TL Tightening Body Cream comes in. The cream comes packaged in an easily squeezable tube, in a very nice 6.7oz size. It has fairly simple directions- squeeze some out, and rub on your trouble spots, and for optimum results use once in the AM and once in the PM.
Giveaway נוצץ במיוחד לערב הסילבסטר ! נכון, לנו יש את ראש השנה שלנו ואת התאריך העברי, אבל אני באופן אישי חוגגת גם את התאריך הזה מאחר וביום יום אני משתמשת בלוח הלועזי וגם כי זו עוד סיבה למסיבה ! ומה חייבים במסיבה טובה ?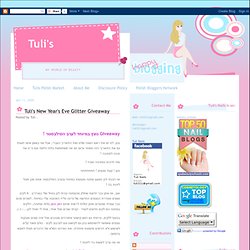 Tuli's New Year's Eve Glitter Giveaway
20 טיפות צבע
Home - Community Nail Polish Gallery
Lacquerized - A blog about nail polish
Nails by Asami
Tough as nails (especially if they're pink) - the nail care thread
The Lacquer Files: Stamping Polish Database
TheLacquerFiles' Photostream
WAH NAILS
my first stiletto - CoolNailsArt