DOCS SOURCES
Agenda / Resonate 2014
Du 03/04 au 05/04/2014 / Dom Omladine, Belgrade Seulement 2 éditions à son actif, en 2012 et 2013, mais le festival Resonate est déjà considéré comme un rendez-vous incontournable en Europe pour les professionnels de la technologie, de l'art et de la culture. Cette année encore, les visiteurs serbes et étrangers devraient être nombreux à se rassembler pour échanger autour de la thématique des nouveaux médias.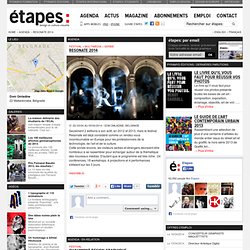 Accessories | Daily Icon - Part 3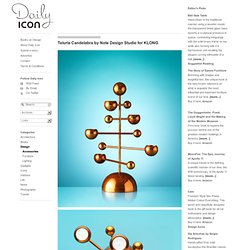 Exhibition: ECAL: Chez Le Corbusier at Villa Le Lac One of the world's most prestigious schools of art has defined a new teaching paradigm by making architecture and industrial design more interdisciplinary, more interconnected. ECAL chez Le Corbusier (ECAL at Le Corbusier's place) is a magnificent tribute to the great architect on the 125th anniversary of his birth. It is also, and above all, an encounter between a master and some pupils: between Le Corbusier and the students of ECAL (University of Art and Design Lausanne). To imagine, then to produce objects for the Villa "Le Lac" was the project conceived by Elric Petit, head of the bachelor's degree programme in industrial design at ECAL, and Chris Kabel, professor at ECAL.
Je ne vous avais pas caché ma fascination pour le grand artiste que fût Roy Lichtenstein - cf. billet http://artdesigntendance.com/roy-lichtenstein/). Alors, bien évidemment, il m'était impossible de rater la première rétrospective parisienne consacrée à l'artiste au Centre Pompidou ↓ Roy Lichtenstein, Crak !
Connecting with Roy Lichtenstein's world | Art Design Tendance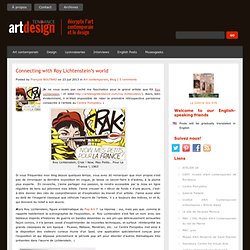 Saliera Salt Cellar by Thomas Feichtner for Jarosinski & Vaugoin For more than 150 years, the longstanding silver manufactory of Jarosinski & Vaugoin has been producing high-quality silver objects. At the beginning of the 20th century, the manufactory–founded in 1847 by Carl Vaugoin, who specialized in heavy, handmade cutlery–relocated to Zieglergasse in Vienna's 7th district, just a few minutes' walk from Feichtner's current studio.
Accessories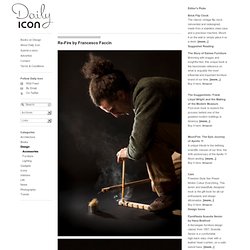 28 November 2013 > 2 March 2014 Seguso Vetri d'Arte (1932-1973) The exhibition is the result of intense archival research by Marc Heiremans, expert in 20th-century Italian glass art. Some 190 magnificent glass objects, piece by piece bearing witness to outstanding craftsmanship, illustrate the story of this Venetian glass artist family.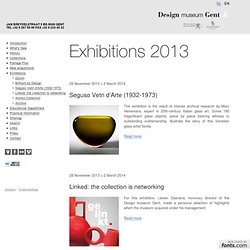 Exhibition programme 2013 - Design museum Gent
Le Bic Cristal, premier succès « jetable » de la firme du baron Bich et quintessence du stylo. C'est au début des années cinquante que le stylo-bille Bic fait son entrée sur la scène mondiale de l'écriture. Le Baron Bich vient d'en acheter le brevet au Hongrois Laszlo Biro et lance le Bic Cristal... Plus d'un demi siècle plus tard, cet instrument d'écriture révolutionnaire fait partie denos vies quotidiennes.
DESIGN : le Bic Cristal | Le Bic Cristal | Design | Culture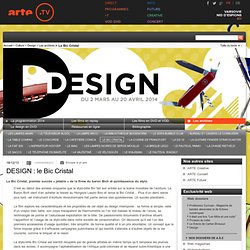 PARIS DESIGN WEEK 2013
Design Archives
DECO-DESIGN | Blog Design / Magazine Décoration, Design & Architecture
MUSÉE D'ORSAY
At the Round-Shaped Plaza of the museum, sculptures of Rodin's "Balzac" as well as those of Maillol and Bourdelle stand in the grand backdrop of Hakone's welcoming natural landscape. You will also find over 100 pieces of modern and contemporary masterpieces in the 70,000 m2 landscape. The Hakone Open-Air Museum has one of the world's largest collections of works by the English master sculptor Henry Moore (1898-1986).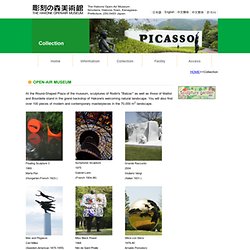 THE HAKONE OPEN-AIR MUSEUM|Collection
TrendsNow - Future Trends Magazine
devientart
Design
Valorisation de l'Innovation dans l'Ameublement | via.fr
Vertigo Seating
Design - Jean PROUVÉ... - Eero AARNIO - Ball… - Marc NEWSON... - Ron ARAD... - Samuel BENSHALOM - Robert STADLER... - curieuxdetrucs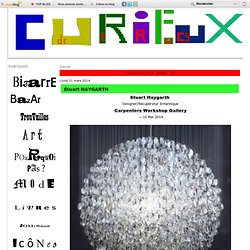 Lundi 6 janvier 2014 1 06 /01 /Jan /2014 09:04
London Design Festival: Urbanzeitgeist
OUTILS multimedia pour le web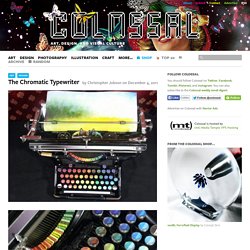 The Chromatic Typewriter
Washington-based painter Tyree Callahan modified a 1937 Underwood Standard typewriter, replacing the letters and keys with color pads and hued labels to create a functional "painting" device called the Chromatic Typewriter.
Sean Alexanderstatement: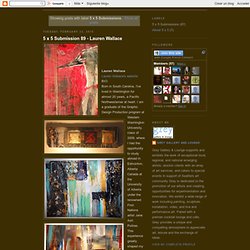 5 x 5 Submissions
Réseau professionnel de designers
Mot de passe oublié ?
Ressources documentaires
Créé en 1980, le fonds documentaire est spécialisé dans l'Histoire, la création, la technique de l'affiche et de la publicité, françaises et étrangères, anciennes et contemporaines.
la Nomade du Design » La Série Ben
"Green" Furniture
Ecofriend - Promoting eco friendly lifestyle to save the environment
la Nomade du Design » La Série Flogia
Vitra Design Museum
design Archives
100 Creative Furniture: Reloaded
100 Creative Furniture
Tous les Grands Designers du Mobilier Contemporain et de la Décoration d'intérieur