AR
metaio
SightSpace 3D (for SketchUp)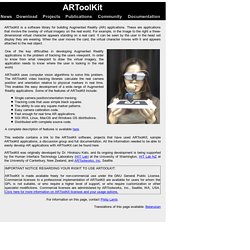 ARToolKit is a software library for building Augmented Reality (AR) applications. These are applications that involve the overlay of virtual imagery on the real world. For example, in the image to the right a three-dimensional virtual character appears standing on a real card. It can be seen by the user in the head set display they are wearing. When the user moves the card, the virtual character moves with it and appears attached to the real object.
LinceoVR
You don't need special knowledge to be a pioneer. All by yourself, in few minutes and low budget you can realize a memorable interactive product experience. You can make it happen in retail space, in a fair or in your website. LinceoVR is the authoring tool that enables you to create bespoke on & off line scenario showing products in new digital ways.
Zappar
Mise à jour Layar iPhone 4.0 Le 3 January 2011 - Par Hugo - Dans Actualité, Applications Layar vient de mettre à disposition la version 4.0 de son application iPhone avec une nouvelle vue Réalité Augmentée. Je viens de tester et l'affichage semble beaucoup moins trembler et être plus stable! Pour ce qui est des calques je n'ai pas été plus loin, j'attend vos retours ;) Je profite de ce court billet pour deux choses : - [...] Lire la suite 3 Commentaires »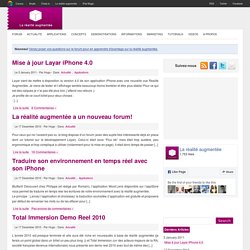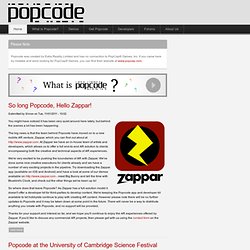 Popcode
You might have noticed it has been very quiet around here lately, but behind the scenes a lot has been happening. The big news is that the team behind Popcode have moved on to a new mobile AR venture, Zappar, which you can find out about at http://www.zappar.com. At Zappar we have an in-house team of artists and developers, which allows us to offer a full end-to-end AR solution to clients encompassing both the creative and technical aspects of AR experiences. We're very excited to be pushing the boundaries of AR with Zappar.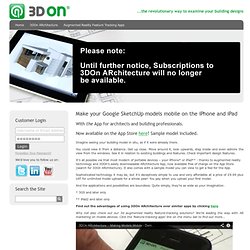 Customer Login We'd love you to follow us on: With the App for architects and building professionals.
3D ARchitecture (for SketchUp)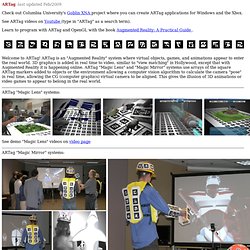 Check out Columbia University's Goblin XNA project where you can create ARTag applications for Windows and the Xbox. See ARTag videos on Youtube (type in "ARTag" as a search term). Learn to program with ARTag and OpenGL with the book Augmented Reality: A Practical Guide . Welcome to ARTag! ARTag is an "Augmented Reality" system where virtual objects, games, and animations appear to enter the real world. 3D graphics is added in real time to video, similar to "view matching" in Hollywood, except that with Augmented Reality it is happening online.