Groups, NGOs, GOs, Non-profits
www.nrdc.org/jobs/nonprofittimes_50best_2011.pdf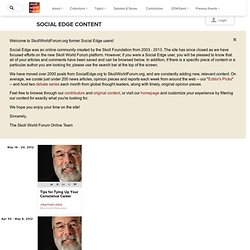 Welcome to SkollWorldForum.org former Social Edge users! Social Edge was an online community created by the Skoll Foundation from 2003 - 2013. The site has since closed as we have focused efforts on the new Skoll World Forum platform.
Welcome from Kate Humble "How many times have you been travelling and visited a school or community or local charity that you would love to help? The school needs books, or a map or pencils; an orphanage needs children's clothes or toys. All things that, if only you'd known, you could've stuffed in your rucksack.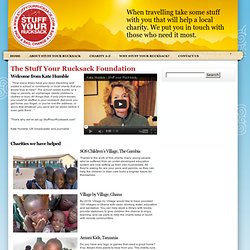 Stuff Your Rucksack: Please help
Home - NGO-IDEAs
a concept of NGOs for participatory monitoring of the effects of their work: outcome and impact. Self-assessment by beneficiaries plays an important role. Phase I of NGO-IDEAs took place 2004-2007 in South India. Phase II 2008-2012 extended its work to South Asia, East Africa and the Philippines, involving 14 German NGOs and 30 NGOs from the Global South. NGO-IDEAs II ended early 2012, but NGO-IDEAs continues as an informal process.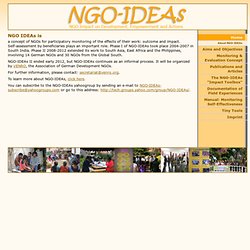 The Global Exchange for Social Investment
sites/reliefweb.int/files/resources/haiti_snapshot_AugustEnglish_Modif.pdf
The Future of MicroPlace Since 2007, we've enabled people to invest more than $58 million to help individuals and communities around the world through our MicroPlace platform. While proud of our results, they haven't scaled to the widespread social impact we aspire to achieve through all our business efforts. Therefore, we've made the difficult decision to stop offering new sales of investments through MicroPlace, effective January 14, 2014. All existing investments will continue to be serviced until they mature or are redeemed. This means you'll continue to have access to your account at MicroPlace.com, and receive interest and principal payments as they become payable by the issuers.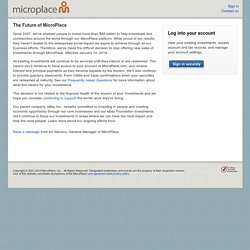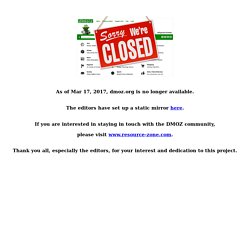 ArtsMovies, Television, Music...GamesVideo Games, RPGs, Gambling...Kids and TeensArts, School Time, Teen Life...ReferenceMaps, Education, Libraries...ShoppingClothing, Food, Gifts... BusinessJobs, Real Estate, Investing...HealthFitness, Medicine, Alternative...NewsMedia, Newspapers, Weather...RegionalUS, Canada, UK, Europe...SocietyPeople, Religion, Issues... ComputersInternet, Software, Hardware...HomeFamily, Consumers, Cooking...RecreationTravel, Food, Outdoors, Humor...ScienceBiology, Psychology, Physics...SportsBaseball, Soccer, Basketball... World Català, Dansk, Deutsch, Español, Français, Italiano, 日本語, Nederlands, Polski, Русский, Svenska...
Pact - Building Capacity Worldwide