Programming
API Reference: Mac OS X Manual Pages. Linux. Python. Ruby. Lisp. Cappuccino Web Framework - Build Desktop Class Applications in Objective-J and JavaScript. Objective-c. Lesson: Learning Swing with the NetBeans IDE (The Java™ Tutorials > Creating a GUI with JFC/Swing)
Examples Index This lesson provides an introduction to Graphical User Interface (GUI) programming with Swing and the NetBeans IDE.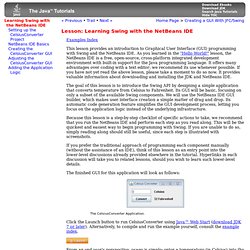 As you learned in the "Hello World! " lesson, the NetBeans IDE is a free, open-source, cross-platform integrated development environment with built-in support for the Java programming language. It offers many advantages over coding with a text editor; we recommend its use whenever possible. C# Station: C# Tutorial Lesson 07 - Introduction to Classes. By Joe Mayo 10/29/00, updated 11/13/01, 3/12/03, 2/21/08, 1/12/09 This lesson introduces you to C# Classes.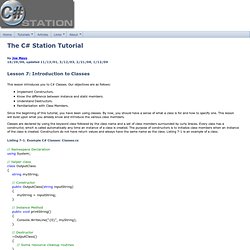 Our objectives are as follows: Implement Constructors. UML Tutorial. Cocoa Application Tutorial. Free Programming Resources. Clean. Thefreecountry.com. Ada Home: the Home of the Brave Ada Programmers (HBAP) Euphoria Programming Language.
---