Programming
Learn Python - Free Interactive Python Tutorial
Basic Operators This section explains a bit on how to use basic operators in Python. Arithmetic Operators Just as any other programming languages, the addition, subtraction, multiplication, and division operators can be used with numbers. number = 1 + 2 * 3 / 4.0 Try to predict what the answer will be.
API Reference: Mac OS X Manual Pages
Lesson: Learning Swing with the NetBeans IDE (The Java™ Tutorials > Creating a GUI with JFC/Swing)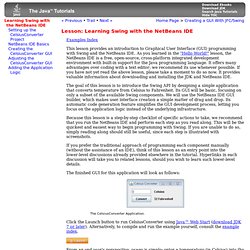 Examples Index This lesson provides an introduction to Graphical User Interface (GUI) programming with Swing and the NetBeans IDE. As you learned in the "Hello World!" lesson, the NetBeans IDE is a free, open-source, cross-platform integrated development environment with built-in support for the Java programming language. It offers many advantages over coding with a text editor; we recommend its use whenever possible.
by Joe Mayo 10/29/00, updated 11/13/01, 3/12/03, 2/21/08, 1/12/09 This lesson introduces you to C# Classes. Our objectives are as follows: Implement Constructors.
C# Station: C# Tutorial Lesson 07 - Introduction to Classes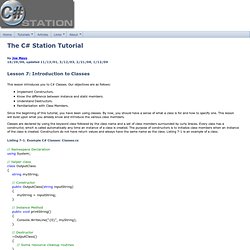 UML Tutorial
Cocoa Application Tutorial
Clean
Ada Home: the Home of the Brave Ada Programmers (HBAP)
Euphoria Programming Language