Programming
API Reference: Mac OS X Manual Pages
Cappuccino 0.9.7 After nearly a year's worth of work we are truly excited to introduce Cappuccino 0.9.7, a major update to the Cappuccino framework featuring a massive number of new features. Since Cappuccino is such a wide framework, ranging from a low foundations such as our Objective-J compiler, all the way up to the full featured, fully themable UI kit AppKit, it's incredibly hard to summarise all the changes. But here's our best stab at it: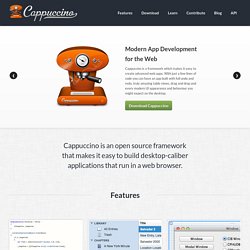 Lesson: Learning Swing with the NetBeans IDE (The Java™ Tutorials > Creating a GUI with JFC/Swing)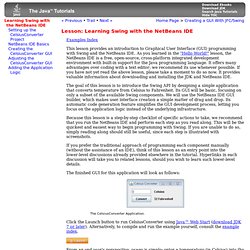 Examples Index This lesson provides an introduction to Graphical User Interface (GUI) programming with Swing and the NetBeans IDE. As you learned in the "Hello World!" lesson, the NetBeans IDE is a free, open-source, cross-platform integrated development environment with built-in support for the Java programming language. It offers many advantages over coding with a text editor; we recommend its use whenever possible.
by Joe Mayo 10/29/00, updated 11/13/01, 3/12/03, 2/21/08, 1/12/09 This lesson introduces you to C# Classes. Our objectives are as follows: Implement Constructors.
C# Station: C# Tutorial Lesson 07 - Introduction to Classes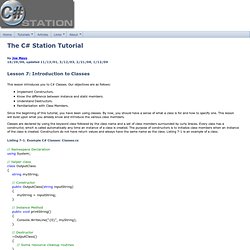 UML Tutorial
Cocoa Application Tutorial
Clean
Welcome to thefreecountry.com's collection of free programming resources, free webmasters' resources, free security resources and free utilities. Free Programming Language Compilers Comprehensive list of compilers for numerous programming languages. Free Source Code and Programming Libraries Source code and libraries that you can use in your own programs. Free Programming Tools and Utilities Tools to make your programming job easier, such as editors, debuggers, static code analysis, disassemblers, compiler construction tools and grammars, file comparison, search and replace, help authoring, setup utilities, resource editors, and lots more.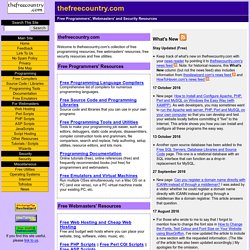 Report: Ada Home 1998 Activity -- continued increase observed in the number of visits and visitors; more than 100,000 visitors in 1998! (1999-01-03) December 10: Happy Birthday Ada Lovelace -- a short biography of the first computer programmer in history. (1998-12-10) Rest In Peace: Ada Joint Program Office closed -- claims "mission accomplished". (1998-10-01)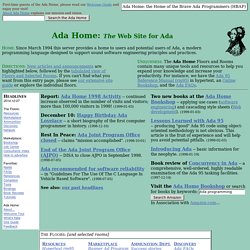 Ada Home: the Home of the Brave Ada Programmers (HBAP)
Euphoria Programming Language