Linux
News Flash New March 25th, 2014VirtualBox 4.3.10 released! Oracle today released VirtualBox 4.3.10, a maintenance release of VirtualBox 4.3 which improves stability and fixes regressions. See the ChangeLog for details. New March 14th, 2014VirtualBox 4.2.24, 4.1.32, 4.0.24 and 3.2.22 released!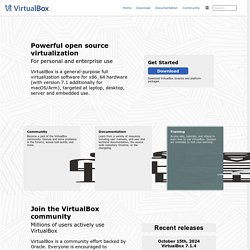 MonoDevelop is a cross-platform IDE primarily designed for C# and other .NET languages. MonoDevelop enables developers to quickly write desktop and ASP.NET Web applications on Linux, Windows and Mac OSX. MonoDevelop makes it easy for developers to port .NET applications created with Visual Studio to Linux and Mac OSX maintaining a single code base for all platforms. Multi-platform Supports Linux, Windows and Mac OS X. Advanced Text Editing Code completion support for C# 4, code templates, code folding. Configurable workbench Fully customizable window layouts, user defined key bindings, external tools Multiple language support C#, Visual Basic.Net, C/C++, Vala Integrated Debugger For debugging Mono and native applications GTK# Visual Designer Easily build GTK# applications ASP.NET Create web projects with full code completion support and test on XSP, the Mono web server.
Filesystem Hierarchy Standard
The Filesystem Hierarchy Standard (FHS) defines the directory structure and directory contents in Unix and Unix-like operating systems, maintained by the Linux Foundation. The current version is 2.3, announced on 29 January 2004.[1] Directory structure[edit] The majority of these directories exist in all UNIX operating systems and are generally used in much the same way; however, the descriptions here are those used specifically for the FHS, and are not considered authoritative for platforms other than Linux. FHS compliance[edit] Most Linux distributions follow the Filesystem Hierarchy Standard and declare it their own policy to maintain FHS compliance.[9][10][11][12]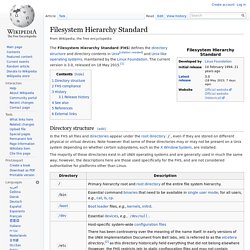 Archive » Ubuntu Dapper Review
LinuxSelfhelp - Need Linux Help?
The Kubuntu 5.10 Quick Guide
Kubuntu, making your PC friendly Kubuntu is an operating system built by a worldwide team of expert developers. It contains all the applications you need: a web browser, an office suite, media apps, an instant messaging client and many more. Kubuntu is an open-source alternative to Windows and Office.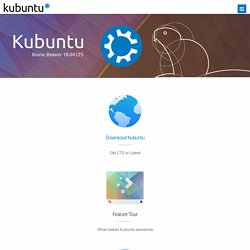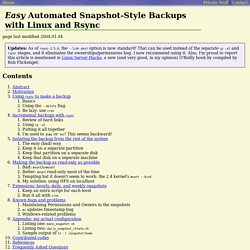 page last modified 2004.01.04 Updates: As of rsync-2.5.6, the --link-dest option is now standard! That can be used instead of the separate cp -al and rsync stages, and it eliminates the ownerships/permissions bug. I now recommend using it. Also, I'm proud to report this article is mentioned in Linux Server Hacks, a new (and very good, in my opinion) O'Reilly book by compiled by Rob Flickenger.
This tutorial teaches you all you need to know to be able to craft powerful time-saving regular expressions. It starts with the most basic concepts, so that you can follow this tutorial even if you know nothing at all about regular expressions yet. The tutorial doesn't stop there.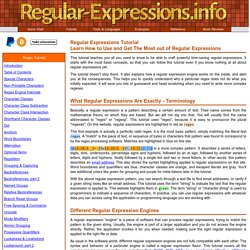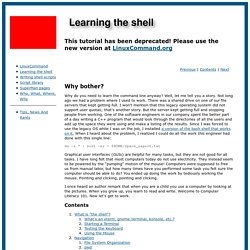 Why do you need to learn the command line anyway? Well, let me tell you a story. Not long ago we had a problem where I used to work.
TIPS FOR LINUX EXPLORERSHelpful info for those learning Linux These Linux tips are meant to provide just enough information to whet your appetite for more. They are updated frequently and are not presented in any particular order.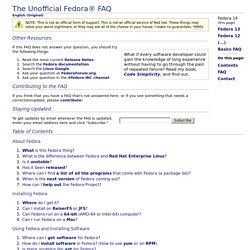 A: Fedora has thousands of pieces of software that can be downloaded and automatically installed from the Internet. What if every software developer could gain the knowledge of long experience without having to go through the pain of repeated failure? Read my book, Code Simplicity, and find out. Configuring Package Installation Many of the packages I mention in the FAQ are only available from rpmfusion. To configure your system so that you can install packages from rpmfusion, follow these instructions:
The Unofficial Fedora FAQ