Catholic
Cardinal Seán's Blog
Maria Lectrix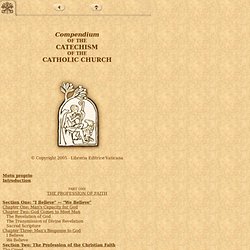 Compendium of the Catechism of the Catholic Church
CompendiumOF THECATECHISM OF THE CATHOLIC CHURCH © Copyright 2005 - Libreria Editrice Vaticana Motu proprio Introduction
Immaculate Heart Radio Audio Archives
True Girl Magazine
St Marks
Father Pat's Place
Cor Sanctum
Retrouvaille - A Lifeline for Married Couples Internet Home Page
Community of Hope - Catholic Charity- New England, Massachusetts, Merrimack Valley
Catholic Doors Ministry
Disciples Now
One-O-Five Live
Vatican Radio
Catholic Family Handbook
The Mysteries of the Rosary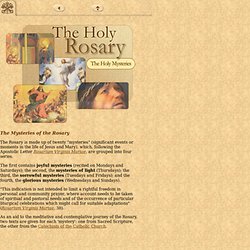 The Mysteries of the Rosary The Rosary is made up of twenty "mysteries" (significant events or moments in the life of Jesus and Mary), which, following the Apostolic Letter Rosarium Virginis Mariae, are grouped into four series. The first contains joyful mysteries (recited on Mondays and Saturdays); the second, the mysteries of light (Thursdays); the third, the sorrowful mysteries (Tuesdays and Fridays); and the fourth, the glorious mysteries (Wednesdays and Sundays). "This indication is not intended to limit a rightful freedom in personal and community prayer, where account needs to be taken of spiritual and pastoral needs and of the occurrence of particular liturgical celebrations which might call for suitable adaptations" (Rosarium Virginis Mariae, 38). As an aid to the meditative and contemplative journey of the Rosary, two texts are given for each 'mystery': one from Sacred Scripture, the other from the Catechism of the Catholic Church.
Catholic Educator's Resource
s of the Immaculate Conception
Bible Christian Society
CatholiCity
St. Paul Center for Biblical Theology
Catholic Home Study Service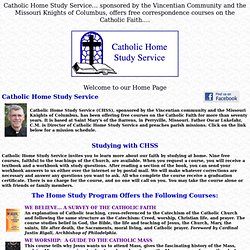 Catholic Home Study Service... sponsored by the Vincentian Community and the Missouri Knights of Columbus, offers free correspondence courses on the Catholic Faith.... Welcome to our Home Page Studying with CHSS Catholic Home Study Service invites you to learn more about our faith by studying at home. Nine free courses, faithful to the teachings of the Church, are available.
Catholic Exchange
Liturgy of the Hours Apostolate
Catholic Culture
American Catholic - A Roman Catholic Church site from the Franciscans
Catholic-Hierarchy
Catechism of the Catholic Church, 2nd Edition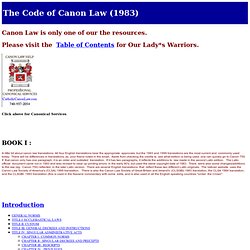 Canon Law is only one of our the resources. Please visit the Table of Contents for Our Lady*s Warriors. Click above for Canonical Services A little bit about canon law translations. All four English translations bear the appropriate approvals, but the 1993 and 1999 translations are the most current and commonly used today. There will be differences in translations, as your friend noted in the email.
Code of Canon Law - 1983
Catholic Answers Forums
The Holy See
United States Conference of Catholic Bishops
Catholic Answers
Roman Catholic Diocese of Rochester, NY
Eternal Word Television Network, Global Catholic Network