Catholic
Thursday, I attended the Catholic Schools Foundation's Annual Inner-City Scholarship Fund Dinner Celebration held at the Copley Marriott in Boston. Peter and Carolyn Lynch have been the backbone of this event, which will be celebrating its 25th anniversary next year. During the dinner they honored Patriots owner Bob Kraft for his support of the ICSF. Bob Kraft has been a long-time supporter of the Catholic Schools Foundation and the Inner City Scholarship Fund. He has attended many dinners over the years. Usually Mary Richardson from Channel 5 serves as the emcee for the evening but this year she was unable to come, so the Executive Director of the Catholic Schools Foundation, Mike Reardon, served as the emcee.
Cardinal Seán's Blog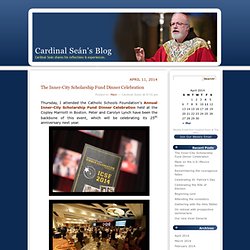 Maria Lectrix
The Life of Sir Aglovale de Galis continues, as a single line of Malory is retconned into a brilliant and evocative Arthurian episode. Chapter 5. This chapter is fresh out of the oven. Posted in Fantasy, Fiction, Novels | Tagged Clemence Housman, King Arthur, The Life of Sir Aglovale de Galis | 6 Comments »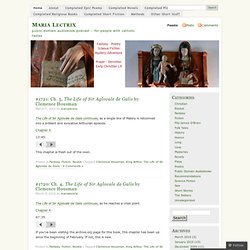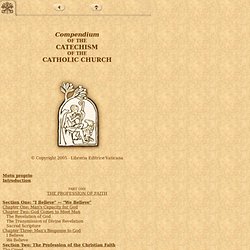 Compendium of the Catechism of the Catholic Church
CompendiumOF THECATECHISM OF THE CATHOLIC CHURCH © Copyright 2005 - Libreria Editrice Vaticana Motu proprio Introduction
Immaculate Heart Radio Audio Archives
True Girl Magazine
Aging occurs at a much slower rate than growing. It is possible to find a person clenching to the old youthful clothing styles yet they are out of the era. Suitable clothing brings in respect and comfort to the wearer.
St Marks
Father Pat's Place
Cor Sanctum
Stephen wrote his song Jericho in 2002. In it a man is searching for a way to court a woman who has emotionally locked herself away from the world. He compares her to Jericho and vows to sing his song beside her wall in hopes that history will repeat itself, and her wall, too, will crumble.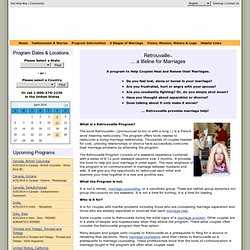 Retrouvaille - A Lifeline for Married Couples Internet Home Page
A program to Help Couples Heal and Renew their Marriages. Do you feel lost, alone or bored in your marriage? Are you frustrated, hurt or angry with your spouse? Are you constantly fighting?
My beloved Jesus, Thou art the Sovereign of heaven and earth; but for the love of me Thou hast made Thyself a servant even of the executioners who tore Thy flesh, pierced Thy head, and finally left Thee nailed on the cross to die of sorrow. I adore Thee as my God and Lord, and I am ashamed to appear before Thee, when I remember how often, for the sake of some miserable pleasure, I have broken Thy holy bonds, and have told Thee to Thy face that I would not serve Thee. Ah, Thou mayst justly reproach me: Thou hast burst my bands, and thou saidst: I will not serve (Jer. ii. 20). But still, O my Saviour, Thy merits and Thy goodness, which cannot despise a heart that repents and humbles itself, give me courage to hope for pardon: A contrite and humble heart, O God, Thou wilt not despise (Isa. 1. 19).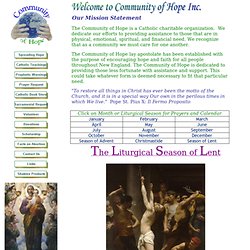 Community of Hope - Catholic Charity- New England, Massachusetts, Merrimack Valley
Catholic Doors Ministry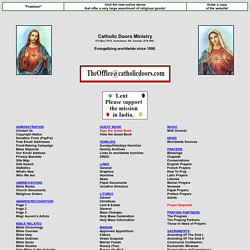 ADMINISTRATION Contact Us Copyright Notice Donation Form Donation Outgoing Free Email Addresses Fund-Raising Campaign Mass Stipends Our Email Address Privacy Mandate Site Map Site Search Statistics What's New Who We Are ABBREVIATIONS Bible Books Church Documents Religious Orders AWARDS/RECOGNITION Page 1 Page 2 Page 3 Msgr Aucoin's Article BIBLE RELATED Bible Chronology Bible Courses Bible Help Bible Outlines Bible Quizs Bible Studies Holy Bible (Latin Vulgate) Miracles Of Jesus Parables Of Jesus One Year Reading
Hey Disciples! Welcome to the Disciples Now archive!From 1999-2011, Disciples Now worked together with a wide range of Catholic and Christian partners to bring you, the young Catholic Church of the United States, stories, articles, music and discussions to help you grow in and share your Catholic faith. It was a blessing and a privilege to bring you this ministry.Following a period of discernment, the Disciples Now team has determined that God is calling us to new avenues in ministry and service to God's people. We hope that you will continue to enjoy the material archived here — some of the most popular resources from the Disciples Now site over the years — and that you will continue to grow in holiness and that you will "go forth and make disciples of all nations." (Mt 28:19)
Disciples Now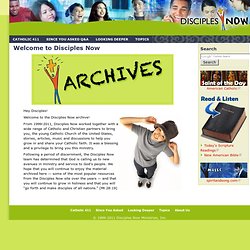 One-O-Five Live
Vatican Radio
Catholic Family Handbook
The Mysteries of the Rosary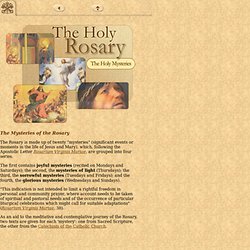 The Mysteries of the Rosary The Rosary is made up of twenty "mysteries" (significant events or moments in the life of Jesus and Mary), which, following the Apostolic Letter Rosarium Virginis Mariae, are grouped into four series. The first contains joyful mysteries (recited on Mondays and Saturdays); the second, the mysteries of light (Thursdays); the third, the sorrowful mysteries (Tuesdays and Fridays); and the fourth, the glorious mysteries (Wednesdays and Sundays). "This indication is not intended to limit a rightful freedom in personal and community prayer, where account needs to be taken of spiritual and pastoral needs and of the occurrence of particular liturgical celebrations which might call for suitable adaptations" (Rosarium Virginis Mariae, 38). As an aid to the meditative and contemplative journey of the Rosary, two texts are given for each 'mystery': one from Sacred Scripture, the other from the Catechism of the Catholic Church.
By Way of Love - David Scott "Part biography and part spiritual reading, these pages bring to light little-known stories from Mother Teresa's life that will help you to grow in your love of God." Mother Teresa's Long Dark Night - David Scott For more than fifty years following her initial visions and locutions, Mother Teresa was wrapped in a dark, pitiless silence.
Catholic Educator's Resource
s of the Immaculate Conception
Bible Christian Society
CatholiCity
We Moved! On Saturday, February 8, the Franciscan University Rugby Team and Prince of Peace Household helped the St. Paul Center settle into our new digs. Our new headquarters—immediately adjacent to Franciscan University—gives us both the room we need now and the room we need to grow. We also finally have our own media room, which will allow us to do more podcasts, videos, and Catholic radio. [READ MORE]
St. Paul Center for Biblical Theology
Catholic Home Study Service
Catholic Home Study Service... sponsored by the Vincentian Community and the Missouri Knights of Columbus, offers free correspondence courses on the Catholic Faith.... Welcome to our Home Page Studying with CHSS Catholic Home Study Service invites you to learn more about our faith by studying at home. Nine free courses, faithful to the teachings of the Church, are available.
Catholic Exchange
Liturgy of the Hours Apostolate
Catholic Culture
American Catholic - A Roman Catholic Church site from the Franciscans
Catholic-Hierarchy
Catechism of the Catholic Church, 2nd Edition
Code of Canon Law - 1983
Catholic Answers Forums
The Holy See
United States Conference of Catholic Bishops
Catholic Answers
Roman Catholic Diocese of Rochester, NY
Eternal Word Television Network, Global Catholic Network