Réseaux de Petri
Arte - Cadre réseaux et systèmes d'information H/F. Article 1.docx. A recommender system for business process model. Petri Nets on the semantic web. Guidelines and Infrastructure. (M. Lenar, J. Sobecki) Using Recommendation to Improve Negotiations in Agent-based Systems. Using Recommendation to Improve Negotiations in Agent-based Systems Mateusz Lenar (Wroclaw University of Technology) Janusz Sobecki (Wroclaw University of Technology, Poland) Abstract: In this paper we present research works on non-intuitive and low-efficient negotiations between agents in agent based system.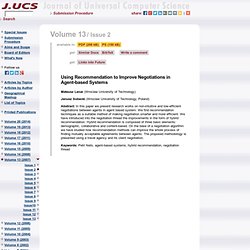 Mohsen Jamali. Numerical. %E6%A5%8A%E5%96%84%E5%9C%8B%20J8. Cinquemani_micheli. Le Guide des bonnes pratiques aux réseaux sociaux de France Télévisions. Aujourd'hui, la question de savoir s'il faut être ou ne pas être présents sur les réseaux sociaux ne se pose plus : nous y sommes d'ores et déjà.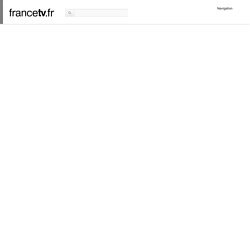 A ce titre, l'ensemble des collaborateurs de France Télévisions peuvent un jour s'exprimer sur leur entreprise et l'univers de sa marque et devenir ainsi potentiellement un vecteur de communication. La communication de masse s'est transformée en masse de communicants. L'arrivée des nouveaux outils 2.0 et le développement de nouvelles plateformes sont une opportunité à saisir pour changer nos modes de communication. Il est donc tout à fait dans l'intérêt de France Télévisions et dans l'intérêt de ses collaborateurs de connaitre et de maitriser ces outils, et participer à cette aventure numérique, où l'interaction, l'échange et le partage deviennent les premières valeurs. An Architectural Strategy for Self-Adapting Systems. Self-adaptation is the ability of a software system to adapt to dynamic and changing operating conditions autonomously.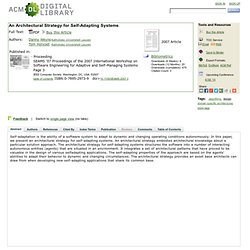 In this paper, we present an architectural strategy for self-adapting systems. An architectural strategy embodies architectural knowledge about a particular solution approach. The architectural strategy for self-adapting systems structures the software into a number of interacting autonomous entities (agents) that are situated in an environment. [PDF]Modeling Online Browsing and Path Analysis Using Clickstream Data. Les réseaux de Petri: une méthode innovante - Le blog de christine balague. THESE-C-Balagu-.pdf Pour télécharger la thèse sur les réseaux de Petri de C.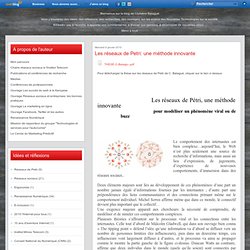 Balagué, cliquer sur le lien ci dessus Les réseaux de Pétri, une méthode innovante pour modéliser un phénomène viral ou de buzz Le comportement des internautes est bien complexe…aujourd'hui, le Web n'est plus seulement une source de recherche d'informations, mais aussi un lieu d'expression, de jugements, d'expérience de nouveaux comportements, d'immersion dans des réseaux sociaux..
Olivier-Maget. Petri Nets World: Online Services for the International Petri Nets Community. Selected News in the Petri Nets World April 9, 2014: PNSE'14 - International Workshop on Petri Nets and Software Engineering, Deadline Extension.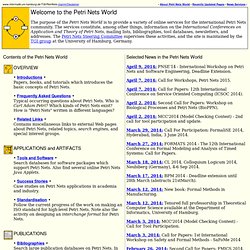 April 7, 2014: Call for Workshops, Petri Nets 2015. April 7, 2014: Call for Papers: 12th International Conference on Service Oriented Computing (ICSOC 2014). Analyse d'algorithmes et conception des structures de traitement associees exploitant les notions de graphes et de reseaux de petri applications au filtrage optimal et a la synthese de l'operateur de riccati rapide (ORR)
Building observers to address fault isolation and control problems in hybrid dynamic systems. Model based approaches to diagnosis for dynamic systems have been based on continuous and discrete event models.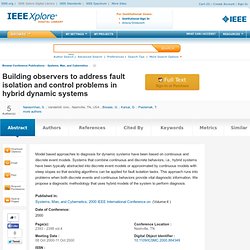 Systems that combine continuous and discrete behaviors, i.e., hybrid systems have been typically abstracted into discrete event models or approximated by continuous models with steep slopes so that existing algorithms can be applied for fault isolation tasks. This approach runs into problems when both discrete events and continuous behaviors provide vital diagnostic information. We propose a diagnostic methodology that uses hybrid models of the system to perform diagnosis. Download?doi=10.1.1.11. Abstract.
---