Miscellaneous
Why Stephen King Spends 'Months and Even Years' Writing Opening Sentences - Joe Fassler. The author of horror classics like The Shining and its 2013 sequel Doctor Sleep says the best writers hook their readers with voice, not just action.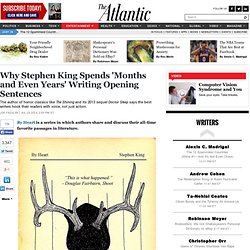 By Heart is a series in which authors share and discuss their all-time favorite passages in literature. Doug McLean Stephen King brings us two new novels in 2013 -- one on shelves already, and the other forthcoming. In June, Joyland was published by Hard Case Crime, an imprint showcasing classic and contemporary crime writers in paperback editions dressed up like vintage pulps: Stylized covers feature ominous taglines, brooding private dicks, and draped-out femme fatales. 10 Reasons To Try 20% Time In The Classroom. If you haven't heard of 20% time in the classroom , the premise is simple: Give your students 20% of their class time to learn what they want.
Yes, that's it. Below is a list of the 10 reasons you should consider 20% time in your school, and you will not regret making that choice! The Best Educational Tool I Have In My Classroom. We spend hours and hours in search of the latest, greatest, and best educational tools to help our kids.
Parents are always wanting to know what they can do to help their child get ahead in the classroom. I often sit in I.E.P. meetings and/or conferences and parents ask about which website or app I recommend. I love telling them that the answer to their quest is already in their home, books . Teachers are constantly looking for the best instructional strategies to employ in their classroom. Using digital media to enhance educational transfer SmartBlogs. Educational transfer is the point of education, right?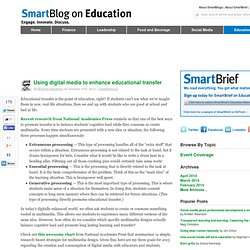 If students can't use what we've taught them in new, real-life situations, then we end up with students who are good at school and bad at life. Recent research from National Academies Press reminds us that one of the best ways to promote transfer is to balance students' cognitive load while they consume or create multimedia. Every time students are presented with a new idea or situation, the following three processes happen simultaneously:
Google Search Stories. Home. Pathfinder for Constructing Pathfinders. Utechtpln.jpg (JPEG Image, 2103 × 1114 pixels) - Scaled (54%) Digital Citizenship Poster for Middle and High School Classrooms. Turn wired students into great digital citizens Get all the tools you need with Common Sense Media's FREE Digital Literacy and Citizenship Curriculum and Parent Media Education Program.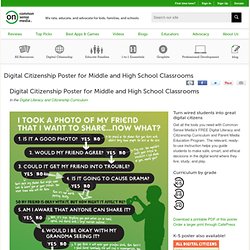 The relevant, ready-to-use instruction helps you guide students to make safe, smart, and ethical decisions in the digital world where they live, study, and play. Curriculum by grade. 21stCenturySkillsNMTeacherCourse - I don't teach novels, an article. Three minute philosophy. Educational Network Association. Essential Questions created by Pat Clifford and Sharon Friesen Essential Questions develop foundational understandings.
They provide the fundamental organizing principles that bound an inquiry and guide the development of meaningful, authentic tasks. Essential questions have several key components: Essential questions. These are key questions that help to focus the learning.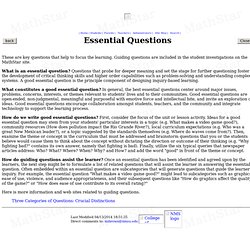 Guiding questions are included in the student investigations on the MathStar site. What is an essential question? 30+ Open Wikis Every Educator Should Know About. How Students Benefit From Using Social Media 12.65K Views 0 Likes A lot of criticism has been leveled at social media and the effect it has on the way students process and retain information, as well as how distracting it can be.
However, social media offers plenty of opportunities for learning and interactivity, and if you take a moment to think about it, it's not too hard to see how students benefit from using social media.
Challenge Based Learning. Pearltrees videos.
---