Book blogs
The Popular Edge, Pop-Up and Book Arts News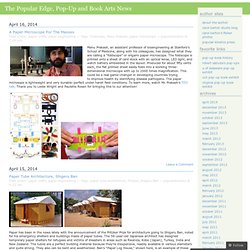 A Paper Microscope for the Masses Manu Prakash, an assistant professor of bioengineering at Stanford's School of Medicine, along with his colleagues, has designed what they are calling a "foldscope" or origami paper microscope. The foldscope is printed onto a sheet of card stock with an optical lense, LED light, and watch battery embedded in the layout. Produced for about fifty cents each, the flat printed sheet easily folds into a working three-dimensional microscope with up to 2000 times magnification.
Seen Reading
Caucasian woman, early 20s, brunette with glasses, wearing brown down jacket, green cashmere sweater, blue jeans, and blue and orange Puma sneakers. A half-eaten square sits on a napkin across the table beside an oversized mug. Gin Tonic et Concombre, Rafaële Germain (Libre Expression) Page 59: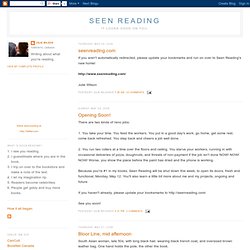 dovegreyreader scribbles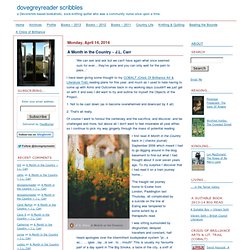 'We can ask and ask but we can't have again what once seemed ours for ever....they've gone and you can only wait for the pain to pass...' I have been giving some thought to my COBALT (Crisis Of Brilliance Art & Literature Trail) reading plans for this year, and much as I used to hate having to come up with Aims and Outcomes back in my working days (couldn't we just get on with it and see) I did want to try and outline for myself the Objects of the Project.. 1.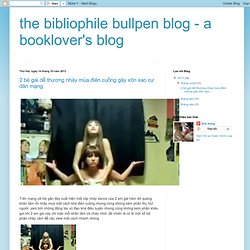 Bibliophile Bullpen
99.4 theblogonthebookshelf.blogspot.com/ 14 240 1,045 588 Bookshelf 123 70 http://bibliophilebullpen.blogspot.com/2008/03/blog-of-note.html Bibliophile Bullpen Text 16 Jan '13 6 days ago 2. 363 99.9999 www.blogger.com/profile/10061186489010154661 ? ? ? ? Blogger: User Profile: Bybee 18 25 http://bibliophilebullpen.blogspot.com/ Bibliophile Bullpen Text 15 Dec '12 3 Apr '13 3. 199 98 www.playbabble.com/ ?
booktwo.org | Literature + Technology
G. Thomas Tanselle. Book Jackets, their history, forms and use. Oak Knoll, 2nd edition 2011. £45. How many academic books sell out in months?
Bookride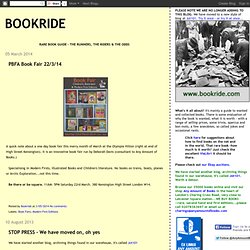 The Millions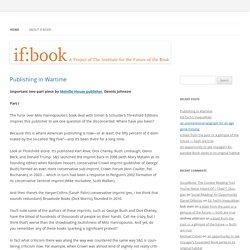 Sol Gaitan, a high-school teacher in New York presented this paper at a conference in Cuba — Research Foundations for Understanding Books and Reading in the Digital Age: E/Merging Reading, Writing, and Research Practices If you read only a bit, try the section below in bold (emphasis mine) Thousands of words have already been written about the prevalence of social networks in the life of adolescents, the changing reading habits of a world connected to the Internet, the attention deficit that this "brave new world" is producing, and the impact of all of this on learning. However, a world exists beyond the Internet.
if:book
Bookshelf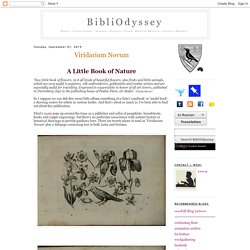 BibliOdyssey
Graphic design posters by contemporary Japanese artists, hosted by Takushoku University Arts Library [link] All the images below were spliced together from screen shots. These images remain under copyright of the individual artist or their estate. 6th Contemporary Japanese Sculpture Exhibition, 1975 by Kiyoshi Awazu