Epicurean
Jack Rose Dining Saloon
Search Results :: store.honeyvillegrain.com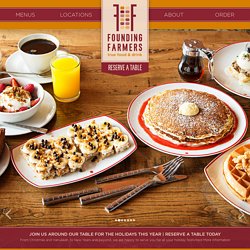 Founding Farmers Restaurant | True Food and Drink | Washington DC
Farmers Fishers Bakers - El Buho Mezcal Release Party Come celebrate the release of El Buho Mezal at Farmers Fishers Bakers Monday, April 14th from 5pm-7pm. Our Bar & Beverage Director, Jon Arroyo, will be creating some specialty cocktails with this fantastic spirit.
BETA - Wine Reviews & Cellar Management Tools
Home - Joseph Phelps Vineyards
PlanetBox - Stainless Steel, Eco friendly, Metal Lunchbox and Lunch Containers
Simplifies Packing Lunch Encourages Healthy Eating Fun Magnets Portion Control Dishwasher Safe Quality Stainless Steel Shop Now Mornings Made Easy Foods Don't Touch View Meals Customize Your Lunchbox Shop Now View Meals Get the Portions Right Easy Clean Up Shop Now Safe for You and the Planet Learn More Looking for an eco and easy way to pack healthy meals? PlanetBox is the smart lunchbox that guides you in packing a well-balanced meal quickly and easily. Part bento box, part TV dinner tray, our segmented containers are the best way to pack delicious, no waste meals for school, work, or on the go.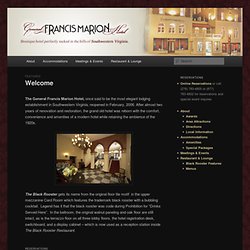 The General Francis Marion Hotel, once said to be the most elegant lodging establishment in Southwestern Virginia, reopened in February, 2006. After almost two years of renovation and restoration, the grand old hotel was reborn with the comfort, convenience and amenities of a modern hotel while retaining the ambience of the 1920s. The Black Rooster gets its name from the original floor tile motif in the upper mezzanine Card Room which features the trademark black rooster with a bubbling cocktail. Legend has it that the black rooster was code during Prohibition for "Drinks Served Here". In the ballroom, the original walnut paneling and oak floor are still intact, as is the terrazzo floor on all three lobby floors, the hotel registration desk, switchboard, and a display cabinet – which is now used as a reception station inside The Black Rooster Restaurant. Friday & Saturday, September 20th & 21st
The General Francis Marion Hotel | Boutique hotel perfectly tucked in the hills of Southwestern Virginia. We invite you to rest, relax, and indulge in all we have to offer, including our restaurant The Black Rooster.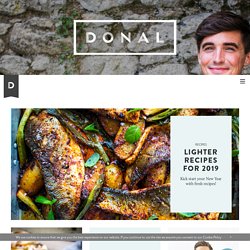 Friday, December 27, 2013 An Irish Christmas… This is a blog post I wrote for American website The Kitchn, who are running a wonderful series called Christmas around the world in which bloggers from different nations describe their Christmas: I grew up in Dublin, Ireland and come from a big family, and although it was only myself and my brother, there are five siblings on my dad's side and six on my mom's, which meant the house was always filled with aunts, uncles, cousins and grandparents around Christmas time. For an Irish family Christmas, the traditional dinner is key and getting it right is a real art. Roast turkey and stuffing, clove-studded baked ham, crispy goose fat potatoes, steamed Brussels sprouts, buttery sweet carrots, crispy parsnips, cranberry sauce, bread sauce, gravy, phew, there's a lot to think of!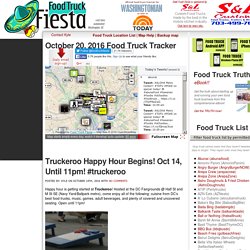 Food Truck Fiesta - a real-time automated DC food truck tracker with commentary
It's that time of the year again when the weather heats up and DC's food truck festival begins! Truckeroo is a monthly food truck gathering, held during the warmer months of the year, at the Half Street Fairgrounds (Navy Yard/Ballpark Metro – Half St SE and M St SE). The event runs from 11am – 11pm, encompassing lunch, happy hour, and dinner. The event features free admission and all ages (for the entire duration), with covered and uncovered seating is provided, as well as adult beverages, music and games. Here is the line-up for this week's Truckeroo! Bada BingBBQ BusBon MiBurGorillaCajunatorsCarmen's Italian IceCap Mac DCCurbside CupcakesDC ClawDC EmpanadasDC Loco's Fusion Tacos BurritoDC SlicesDC SlidersGoodies Frozen Custard & TreatsNeatMeatDCRed Hook Lobster PoundRocklands Barbeque & GrillingSouth Meets EastSurfsideTaKoreanTapasThe Big Cheese