Epicurean
Jack Rose Dining Saloon. Search Results :: store.honeyvillegrain.com.
DC area resturants. Founding Farmers Restaurant | True Food and Drink | Washington DC. BETA - Wine Reviews & Cellar Management Tools. Home - Joseph Phelps Vineyards. PlanetBox - Stainless Steel, Eco friendly, Metal Lunchbox and Lunch Containers.
The General Francis Marion Hotel | Boutique hotel perfectly tucked in the hills of Southwestern Virginia. We invite you to rest, relax, and indulge in all we have to offer, including our restaurant The Black Rooster. The General Francis Marion Hotel, once said to be the most elegant lodging establishment in Southwestern Virginia, reopened in February, 2006.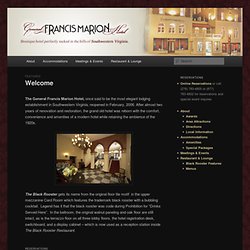 After almost two years of renovation and restoration, the grand old hotel was reborn with the comfort, convenience and amenities of a modern hotel while retaining the ambience of the 1920s. The Black Rooster gets its name from the original floor tile motif in the upper mezzanine Card Room which features the trademark black rooster with a bubbling cocktail. Legend has it that the black rooster was code during Prohibition for "Drinks Served Here". In the ballroom, the original walnut paneling and oak floor are still intact, as is the terrazzo floor on all three lobby floors, the hotel registration desk, switchboard, and a display cabinet – which is now used as a reception station inside The Black Rooster Restaurant.
Friday & Saturday, September 20th & 21st. The Official Website for Donal Skehan | Food Writer and Food Photographer - Ireland. The Center for Food Safety | Protecting Human Health and the Environment. Food Truck Fiesta - a real-time automated DC food truck tracker with commentary.
---