Employee Communications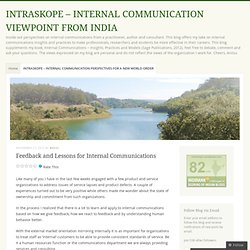 i Rate This Like many of you I have in the last few weeks engaged with a few product and service organizations to address issues of service lapses and product defects. A couple of experiences turned out to be very positive while others made me wonder about the state of ownership and commitment from such organizations.
Feedback and Lessons for Internal Communications « INTRASKOPE – INTERNAL COMMUNICATION VIEWPOINT FROM INDIA
CEB Communications Blog » How To Reach Non-Wired Employees – And No, It's Not The Bulletin Board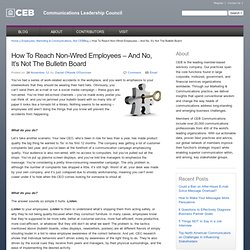 You've had a series of work-related accidents in the workplace, and you want to emphasize to your steelworkers that they should be wearing their hard hats. Obviously, you can't send them an e-mail or run a social media campaign – these guys are non-wired.
Never, ever stop communicating. We've stressed the need to communicate well with your customers, but what about your employees? I once worked at a company where the only time we saw the chief executive was when he was delivering bad news.
Employee Communication Is Key | Point Blank | Direct Capital
Hello! My name is Jamie Lawrence and I've been at HRZone for about a month. I've been working in the online sphere for many years, both agency-side as a copywriter and in editorial for a small business advice website. In September 2012, I took three months out to go travelling around Africa with my partner (big learning experience and a lot of fun!) and then came back to the UK, moved to Bristol and joined HRZone. HRZone has many strengths, not least the community.
Working in harmony – effective employee communication and your marketing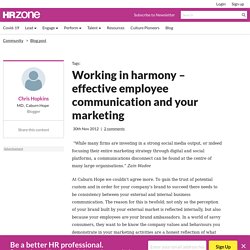 Human Resource Executive Online | Employees Improving Bosses
Employees Improving Bosses A recent employee survey shows that, while their bosses are ethical and professional, they could stand to communicate better in times of crisis, resolve workplace conflicts and be open about their own weaknesses. By Katie Kuehner-Hebert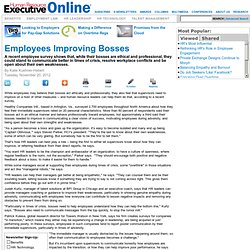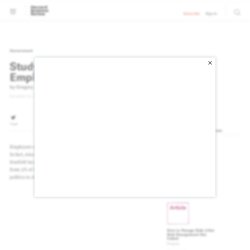 by Gregory S. Casey | 8:00 AM November 2, 2012 Employers are increasingly talking about politics with their employees. In fact, since we began our outreach and monitoring, we have seen a fourfold increase in employer-to-employee political communications, from 5% of the private workforce hearing from their employer about politics in 2000 to over 20% in 2008. There is a popular, but erroneous, notion that when employers communicate with employees about issues, candidates and the political process, that this is somehow inherently corrupting to that process.
Study: Employees Want Employers to Talk Politics - Gregory S. Casey
Software > How Enterprise Social Networking aids employee collaboration
With the surging popularity across the globe for social networking, there is a continuous need to imbibe the ease and networking capabilities of social networks, internally within the organization. Thus, building a social network for the employees is the next step towards building stronger employee relations, professionally, and to an extent personally. The idea is to bring real-time communication inside the enterprise; to have a platform that brings together employees of the company inside a private and secure enterprise social network to connect, share and collaborate. Enterprise Social Networking (ESN) is one of the best ways for enterprises to know what's happening where, how, when and by whom. Ongoing projects, documents, presentations, tasks are shared regularly.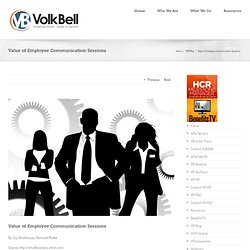 Value of Employee Communication Sessions
By Jay Delahousay, Demand Media Source: http://smallbusiness.chron.com Despite the many ways to pass information in the workplace — email, social media, phone, text or via the company intranet — inadequate communication between managers and employees exists. Employees need guidance from their supervisors, and management needs input from the entire team in order for the company to succeed. To help foster an open and honest culture, many companies host communication sessions that can provide measurable benefits to all employees. Definition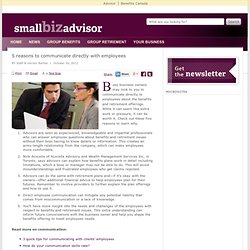 5 reasons to communicate directly with employees | Small Biz Advisor
B usy business owners may look to you to communicate directly to employees about the benefits and retirement offerings. While it can seem like extra work or pressure, it can be worth it. Check out these five reasons to learn why: Advisors are seen as experienced, knowledgeable and impartial professionals who can answer employee questions about benefits and retirement issues without their boss having to know details or information. This creates an arms-length relationship from the company, which can make employees more comfortable. Nick Acocella of Acocella Advisory and Wealth Management Services Inc, in Toronto, says advisors can explain how benefits plans work in detail including limitations, which a boss or manager may not be able to do.
Ragan Communications reports that "Employee Engagement Is (A) Top Challenge For 2013": Executives don't agree with communicators that it's a top priority ("engagement didn't even make the list.") In any large, complex organization, internal communication must normally go through many bureaucratic hoops to be approved. Also, operational matters frequently crowd out what seem like "mushy" matters to executives. If you are eager to promote internal communication, but are finding it a daunting hassle, here are 5 tactics that I've used across three government agencies. They may be helpful to you: 1.
5 Internal Communication Activities Your Boss Will Support - GovLoop - Knowledge Network for Government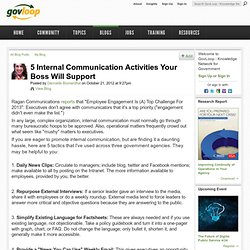 Internal Communications - Free PR Advice and Tips Checklist
Internal Communications Audit
ROI of Employee Communication
The future of employee communications
Internal Communications Organisations
Employee Communications Channels
Healthcare Communications
Internal marketing communication