Employee Communications
Internal communication and the available brain time syndrom. Summary : the recent evolution of intranets make internal communication face many new challenges.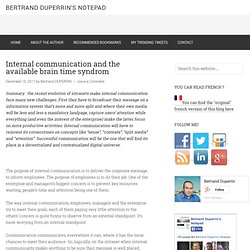 First they have to broadcast their message on a information system that's more and more split and where their own media will be less and less a mandatory landpage, capture users' attention while everything (and even the interest of the enterprise) make the latter focus on more productive activities. Internal communication will have to reinvent its cornerstones on concepts like "sense", "contexte", "split media" and "attention". Successful communication will be the one that will find its place in a decentralized and contextualized digital universe. 5 Tips For Strategic Employee Communication.
Most of us spend weeks or months pouring over your social media, print and video campaign for the new product your company is pushing.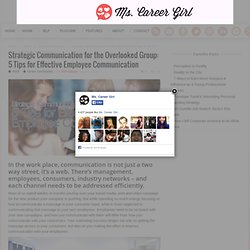 But while spending so much energy focusing on how to communicate a message to your consumer base, what is most neglected is communicating that message to your own employees. Employees need to be on board with your new campaigns, and how you communicate with them will differ from how you communicate with your consumers. Your marketing success hinges not only on getting the message across to your customers, but also on you making the effort to improve communication with your employees.
Get HR Involved Don't let your marketing team work behind closed doors. Choosing the right communication channel. This communication channels guide will help internal communicators and managers, alike, make an informed choice when selecting the right channel to deliver their message and understand their audience.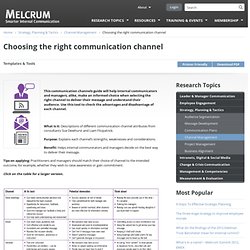 Use this tool to check the advantages and disadvantage of each channel. What is it: Descriptions of different communication channel attributes from consultants Sue Dewhurst and Liam Fitzpatrick. Purpose: Explains each channel's strengths, weaknesses and considerations. Biker's Guide to Internal Communication. Now that the weather is improving I got my bike out this weekend; yes I am a fair weather biker.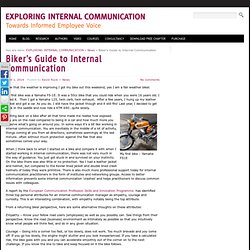 My first bike was a Yamaha FS-1E. It was a 50cc bike that you could ride when you were 16 years old. I loved it. Internal communications 101 #internalcomms | Inside out. Posted on January 15, 2014.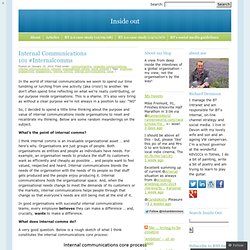 Filed under: communications, corporate communications, internal communications, intranet, organisational culture, social intranet | Tags: employee engagement, engagement, internal comms, internal communications, value | In the world of internal communications we seem to spend our time tumbling or lurching from one activity (aka crisis!) To another. We don't often spend time reflecting on what we're really contributing, or our purpose inside organisations. This is a shame. The Top  10  Songs  about   When  Employee  Engagement and  Communication  Fails! - The Dialogue Zone. Ivy Lee and the history of internal communication. Ivy Lee and the history of internal communication Of all the people in the history of public relations, the American Ivy Lee probably has the best claim to being the father of the industry.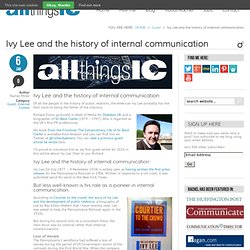 Richard Evans (pictured) is Head of Media for Diabetes UK and a biographer of Sir Basil Clarke (1879 – 1947), who is regarded as the UK's first PR professional. Internal Communication definition. What is Internal Communication?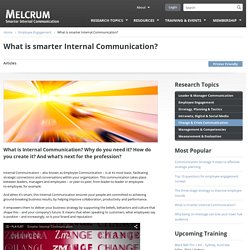 Why do you need it? How do you create it? And what's next for the profession? Internal Communication Methods - Strategy and Tactics by SnapComms Ltd. What in the world is Internal Communication? | Rikki Hunt Associates. Internal communications is the direct two way communications between employers and the people that work for them.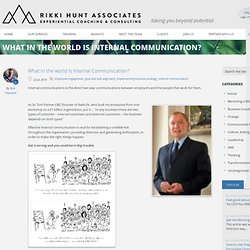 As Sir Tom Farmer CBE, founder of Kwik-Fit, who built his enterprise from one workshop to a £1 billion organisation, put it… "In any business there are two types of customer – internal customers and external customers – the business depends on both types" Effective internal communication is vital for establishing a credible link throughout the organisation; providing direction and generating enthusiasm, in order to make the right things happen. Feedback and Lessons for Internal Communications « INTRASKOPE – INTERNAL COMMUNICATION VIEWPOINT FROM INDIA. Like many of you I have in the last few weeks engaged with a few product and service organizations to address issues of service lapses and product defects.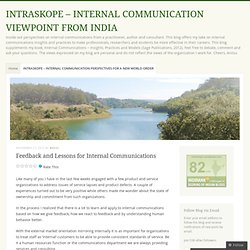 A couple of experiences turned out to be very positive while others made me wonder about the state of ownership and commitment from such organizations. In the process I realized that there is a lot to learn and apply to internal communications based on how we give feedback, how we react to feedback and by understanding human behavior better. With the external market orientation mirroring internally it is as important for organizations to treat staff as 'internal' customers to be able to provide consistent standards of service.
How to write an internal communication strategy. How to write an internal communication strategy What does an internal communication strategy look like?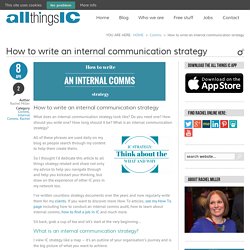 Do you need one? CEB Communications Blog » How To Reach Non-Wired Employees – And No, It's Not The Bulletin Board. You've had a series of work-related accidents in the workplace, and you want to emphasize to your steelworkers that they should be wearing their hard hats. Obviously, you can't send them an e-mail or run a social media campaign – these guys are non-wired. GET The IABC Handbook of Organizational Communication: A Guide to Internal Communication, Public Relations, Marketing and Leadership (J-B International Association of Business Communicators) Reviews - b b and b association. The IABC Handbook of Organizational Communication: A Guide to Internal Communication, Public Relations, Marketing and Leadership (J-B International Association of Business Communicators) description The IABC Handbook of Organizational Communication is the fourth edition of the best-selling resource that offers a comprehensive collection of practical knowledge and insights about effective corporate communication and its effect on organizational success.
With contributions from the leading experts in organizational, business, and corporate communications, this invaluable resource examines each of the functional areas of organizational communication including internal communication, public relations, marketing, and communication strategy. This important book is written for communicators in organizations of all types—large and small, public and private, for profit and not for profit.
Employee Communication Is Key | Point Blank | Direct Capital. Never, ever stop communicating. We've stressed the need to communicate well with your customers, but what about your employees? I once worked at a company where the only time we saw the chief executive was when he was delivering bad news. Why Internal Communication is Essential for a Positive Customer Experience - Steton. Effective communication between management and employees is critical in today's fast-changing and ever-growing marketplace. For example, employees feel involved when upper management encourages sharing of ideas and opinions. Engaging employees helps them see that their jobs have meaning and helps create a connected and accountable culture.
Generally, this leads to higher productivity, employee retention, and job satisfaction. But one of the most important effects of good internal communication in any service industry is its ability to establish a shared understanding of success between management and employees. Working in harmony – effective employee communication and your marketing. Comment, insight and ideas on communicating with employees effectively around all aspects of their relationship with the business to drive performance and maximise return on human capital. This blog focuses on engaging employees emotionally not just presenting them with transactional information. Chris Hopkins is Managing Consultant at award-winning employee communication consultancy Caburn Hope - www.caburnhope.co.uk . Employees Improving Bosses. Study: Employees Want Employers to Talk Politics - Gregory S. Casey. Software > How Enterprise Social Networking aids employee collaboration.
Value of Employee Communication Sessions. 5 reasons to communicate directly with employees | Small Biz Advisor. 5 Internal Communication Activities Your Boss Will Support. Internal Communications - Free PR Advice and Tips Checklist.
Effective Content. Internal Communications Audit. Reducing Email Overload. ROI of Employee Communication. The future of employee communications. Internal Communications Organisations. Employee Communications Channels. Healthcare Communications. Measurement.
Audiences. IT communications. Internal marketing communication. HR communications.
---