JavaScript & JQuery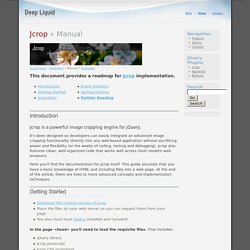 excellent Jcrop manual
Jcrop Home • Download • Manual • Examples This document provides a roadmap for Jcrop implementation. Introduction Jcrop is a powerful image cropping engine for jQuery.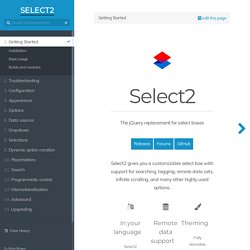 Gets or sets the selection.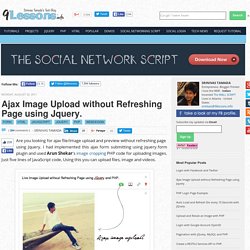 Are you looking for ajax file/image upload and preview without refreshing page using Jquery. I had implemented this ajax form submitting using jquery.form plugin and used Arun Shekar's image cropping PHP code for uploading images. Just five lines of JavaScript code, Using this you can upload files, image and videos.
custom thumbnail for embedded video
Recently Jenny asked me for a way to embed a YouTube video with a custom thumbnail that would play the video when clicked. I'm aware that YouTube allows Partners to use a custom thumbnail for their videos, but standard users are restricted to a selection of random frames from their uploaded video.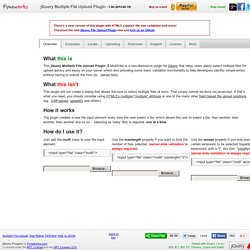 What this is This ( $.MultiFile ) is a non-obstrusive plugin for jQuery that helps users easily select multiple files for upload quickly and easily on your hosting server whilst also providing some basic validation functionality to help developers idenfity simple errors, without having to submit the form (ie.: upload files). What this isn't This plugin will not create a dialog that allows the user to select multiple files at once. That simply cannot be done via javascript. If that's what you need, you should consider using HTML5's multiple="multiple" attribute or one of the many other flash based file upload solutions (eg.: SWFupload , uploadify and others)
multiple file upload
"Password" hint instead of ******** - works in IE
Advertisement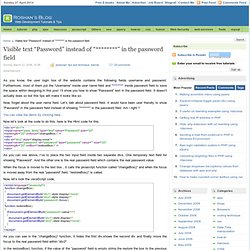 Hover above and feel for yourself, the nifty effect of Lava Lamp. What you just experienced is nothing but the LavaLamp menu packaged as a plugin for the amazing jQuery javascript library. I personally believe that the effect rivals that of flash – Don't you? Especially considering the fact that it is extremely light weight. Just so you know, it weighs just 700 bytes(minified)!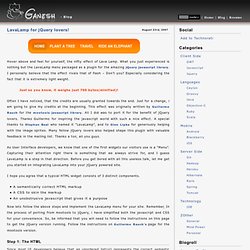 All too often, I find code similar to this when inspecting the source for public websites that use jQuery: If you're doing this on a public facing website, you are doing it wrong. Instead, I urge you to use the Google AJAX Libraries content delivery network to serve jQuery to your users directly from Google's network of datacenters. Doing so has several advantages over hosting jQuery on your server(s): decreased latency, increased parallelism, and better caching.
why you should let Google host jQuery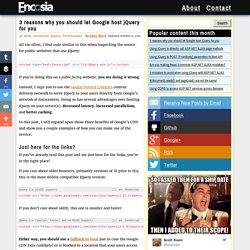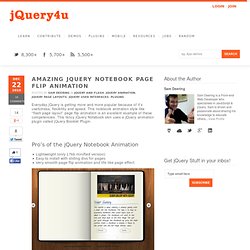 Everyday jQuery is getting more and more popular because of it's usefulness, flexibility and speed.
notebook page flip
First, include the jQuery and masked input javascript files. Next, call the mask function for those items you wish to have masked. jQuery(function($){ $("#date").mask("99/99/9999"); $("#phone").mask("(999) 999-9999"); $("#tin").mask("99-9999999"); $("#ssn").mask("999-99-9999");}); Optionally, if you are not satisfied with the underscore ('_') character as a placeholder, you may pass an optional argument to the maskedinput method. Optionally, if you would like to execute a function once the mask has been completed, you can specify that function as an optional argument to the maskedinput method.
Masked Input Plugin