Python
python - How to disable the OptionParser default help view? - Stack Overflow - Vimperator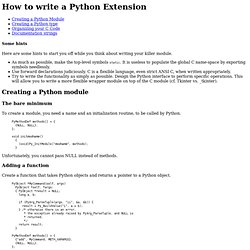 Some hints
Extension writing - Vimperator
Python Types and C-Structures — NumPy v2.0.dev-861e227 Manual (DRAFT) - Vimperator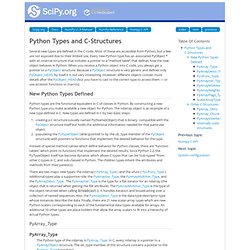 Several new types are defined in the C-code.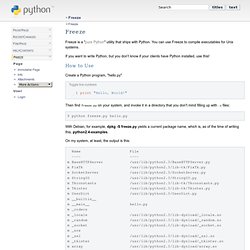 Freeze - PythonInfo Wiki - Vimperator
Freeze is a "pure Python" utility that ships with Python. You can use Freeze to compile executables for Unix systems. If you want to write Python, but you don't know if your clients have Python installed, use this!
Inno Setup Downloads Want to be notified by e-mail of updates? Then click here to sign up for the Inno Setup update notification mailing list.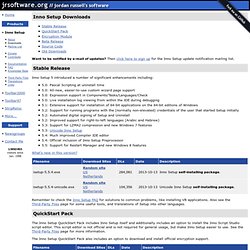 Inno Setup Downloads - Vimperator
How to create Windows executable (.exe) from Python script - Vimperator
Python is a simple and powerful language for scripting and even application development. Various GUI packages available for Python makes it suitable for developing full fledged applications in python.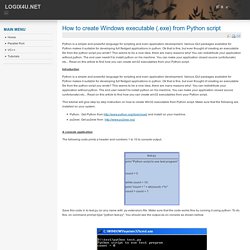 PEP 318 -- Decorators for Functions and Methods - Vimperator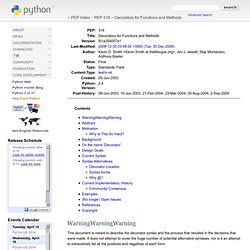 PEP Index> PEP 318 -- Decorators for Functions and Methods This document is meant to describe the decorator syntax and the process that resulted in the decisions that were made. It does not attempt to cover the huge number of potential alternative syntaxes, nor is it an attempt to exhaustively list all the positives and negatives of each form.
The ExplorerThings to Know About Python Super [1 of 3]by Michele SimionatoAugust 12, 2008
Things to Know About Python Super [1 of 3] - Vimperator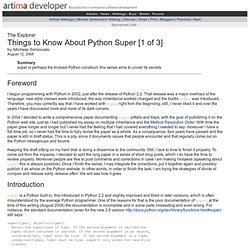 StringIO and cStringIO – Work with text buffers using file-like API - Python Module of the Week - Vimperator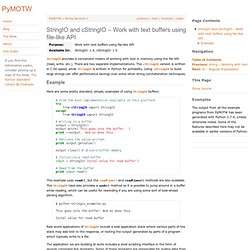 StringIO provides a convenient means of working with text in memory using the file API (read, write. etc.). There are two separate implementations. The cStringIO version is written in C for speed, while StringIO is written in Python for portability. Using cStringIO to build large strings can offer performance savings over some other string conctatenation techniques.
Python colored output - Siafoo - Vimperator
Unifying types and classes in Python 2.2 - Vimperator
smunix/boost.test-examples - GitHub - Vimperator
Want to have "scons test" run your unit tests?
UnitTests - SCons Wiki - Vimperator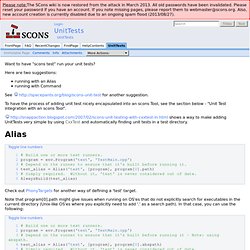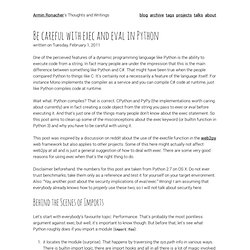 Be careful with exec and eval in Python | Armin Ronacher's Thoughts and Writings - Vimperator
written on Tuesday, February 1, 2011 One of the perceived features of a dynamic programming language like Python is the ability to execute code from a string.
Decorators modify functions. Beginning with the basics, learn how to use decorators in a variety of ways.
Python Decorators Don't Have to be (that) Scary - Siafoo - Vimperator
User Guide 2.0.1
PyCXX: Write Python Extensions in C++
Welcome to Google's Python Class -- this is a free class for people with a little bit of programming experience who want to learn Python. The class includes written materials, lecture videos, and lots of code exercises to practice Python coding. These materials are used within Google to introduce Python to people who have just a little programming experience. The first exercises work on basic Python concepts like strings and lists, building up to the later exercises which are full programs dealing with text files, processes, and http connections. The class is geared for people who have a little bit of programming experience in some language, enough to know what a "variable" or "if statement" is.
[projects] View of /python/branches/release27-maint/Lib/sched.py
Source code: Lib/sched.py The sched module defines a class which implements a general purpose event scheduler:
8.8. sched — Event scheduler — Python v2.7.1 documentation
8.10. queue — A synchronized queue class — Python v2.7.1 documentation
Note The Queue module has been renamed to queue in Python 3.
16.6. multiprocessing — Process-based "threading" interface — Python v2.7.1 documentation
New in version 2.6. 16.6.1. Introduction
struct – Working with Binary Data
20.17. SocketServer — A framework for network servers — Python v2.7.1 documentation
Concurrency
Is there a better Python IDE? « Lennart Regebro: Python, Plone, Web
UdpCommunication
The Python Standard Library ? Python v2.7.1 documentation
8.11. weakref — Weak references — Python v2.7.1 documentation
Parallel Python - Home
Documentation
Unifying types and classes in Python 2.2
The Python Property Builtin
Python Network Programming
Python Network Programming : The Threading Module