Android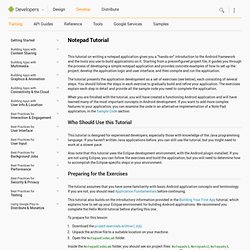 This tutorial on writing a notepad application gives you a "hands-on" introduction to the Android framework and the tools you use to build applications on it. Starting from a preconfigured project file, it guides you through the process of developing a simple notepad application and provides concrete examples of how to set up the project, develop the application logic and user interface, and then compile and run the application. The tutorial presents the application development as a set of exercises (see below), each consisting of several steps. You should follow the steps in each exercise to gradually build and refine your application.
Notepad Tutorial | Android Developers - Vimperator
Android - Porting Guide - Vimperator
android « just do IT - Vimperator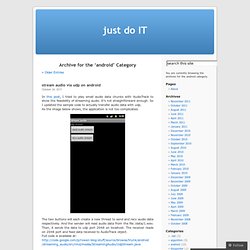 When we make use of jni on android, it's a error-prone task to manually write the native function name for a given java native function.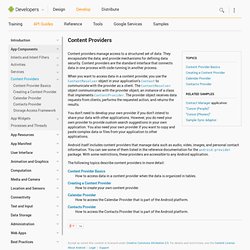 Content Providers | Android Developers - Vimperator
Content providers manage access to a structured set of data. They encapsulate the data, and provide mechanisms for defining data security.
Building Android kernel images
Below are the steps taken by me to build a working Android kernel image for the ADP1 (a.k.a. the developer G1). This image is based on linux kernel 2.6.27 and relies on the Android 1.5 "cupcake" radio image from HTC.
Tutorial: Using Eclipse for NDK projects : Code Maemo
Android freelancers & outsourcing » Products
From Gnash Project Wiki
Building for Android - Gnash Project Wiki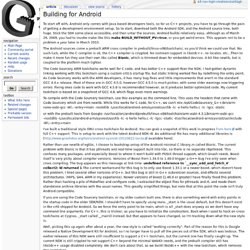 Mike's Blog: View Android Source Code in Eclipse
Recently, I have been hacking around with Android a lot, and I think it's awesome.