SEO
Google Panda Update Up Close [Infographic]
SeoBlack Inside - Techniques de développement Black Hat SEO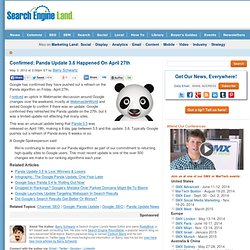 Confirmed: Panda Update 3.6 Happened On April 27th
Google has confirmed they have pushed out a refresh on the Panda algorithm on Friday, April 27th. I noticed an uptick in Webmaster discussion around Google changes over the weekend, mostly at WebmasterWorld and asked Google to confirm if there was an update. Google confirmed they refreshed the Panda update on the 27th, but it was a limited update not affecting that many sites. This was an unusual update being that Panda 3.5 was released on April 19th, making a 8 day gap between 3.5 and this update, 3.6.
GoogleWebmasterHelp's Channel
- Google Correlate
site - Blogging Service - Google Docs
301 Redirect 301 redirect is the most efficient and Search Engine Friendly method for webpage redirection. It's not that hard to implement and it should preserve your search engine rankings for that particular page. If you have to change file names or move pages around, it's the safest option.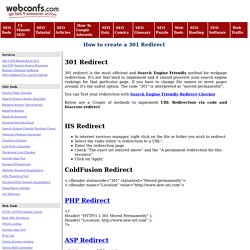 http://www.lunametrics.com/wp-content/uploads/2010/08/LunaMetrics-SEO-Checklist.pdf
Rank Checker
SMM Services India Social Media Marketing (SMM) Services Company India
site - Blogging Service - Google Docs
Free SEO Tool & Website Evaluation
Website Widgets and Features
Over the course of the last decade, an array of viral marketing examples have come and gone with varying degrees of success. Though the term "viral" infers that the campaign is organic and self-replicating, marketers and big-name brands have begun to attempt manufacturing viral content in the hopes of increasing their brand awareness or product sales. Some feel that viral content cannot be manufactured and is only the product of organic and unpredictable forces, while a growing number of others feel that they can predict what people will be interested in, how they will share that content, and ultimately what will become viral. Though the debate rages on, the fact remains that viral marketing has evolved over the course of the last decade from a rather obscure Internet phenomenon to a massive, multi-million dollar marketing tool employed by agencies and brands the world over. With that said, let's explore some of the better examples of viral marketing in the last decade. Special Note: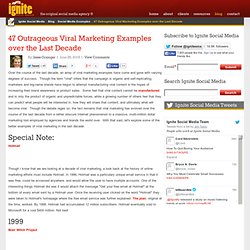 47 Outrageous Viral Marketing Examples over the Last Decade
This is Avangate Top 50 press release submission list, most trustworthy sites where you can publish a press release, all of them free of charge. This list was initially created in 2007, but thanks to your comments and suggestions, we have been able to update it regularly. So, here is the 2010 list, ordered by Google PageRank. The links lead either to "Add/Submit a Press Release" or "Register" page. *You need to create an account in order to submit a press release.
Facts, Stats & Useful Data