Vacation stuff
Manhattan Life | Dansker i New York
Da vi tog til New York med vores søn, som på det tidspunkt var 10 mdr. gammel, lavede jeg en masse researche for at forsøge at gøre vores tur nemmere og mere behagelig. Vi vidste godt at denne tur til byen ikke ville være på samme måde som alle de andre ture vi har haft derover. Denne gang ville det blive på sønnens præmisser ifbm. at sove m.m. Syntes jeg vil dele min lise med jer, og der er allerede et par læsere som har fået listen tilsendt og har kunne gøre brug af den. Pusletaske til flyveturen Der var ingen begrænsninger for at medbringe babymad med ombord på flyet, de var flinke igennem security. Så tag rigeligt med mad med.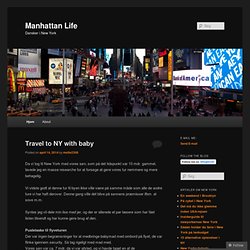 Ferieudlejninger, private værelser, udlejning for en enkelt nat - Overnatningsmuligheder på Airbnb
On the one hand, with the London-Paris love affair blossoming more than ever, it's a wonder that the French capital hasn't adopted a few more British traditions. That being said, of all the potential cultural imports, food must've ranked somewhere near the bottom of the list. Not to be put off by prejudices of the Gallic tongue, two plucky young Brits decided to introduce a culinary classic of the Victorian seaside to the modern-day shores of the Canal Saint-Martin.
Unlike City Guides | the definitive city guide for the mobile generation
CityMaps.com: Find New York Restaurants, Bars, Hotels, Shopping, Movies, Deals, Parking and more | CityMaps | Get A Closer Look | NYC | Manhattan