Read Later
Get flash to fully experience Pearltrees
An SSD drive is a worthwhile investment , but like any storage device, it can fail. In fact, failing isn't that uncommon . As with your spinning drives, you should always set up a good backup solution , and you can do plenty to take full advantage of your SSD , but you can also take steps to maximize your SSD's lifespan. Here's how.
While reading through forums, I've noticed that a ton of people are now using solid state drives (SSDs) instead of hard disk drives (HDDs) for their operating system partition and, sometimes, for the entire computer's storage. That's all fine and dandy, but if you run an SSD, you pretty much don't benefit as much from it as you would if you knew how to prepare your operating system for it. Windows 7 supports certain features that SSDs need to operate at optimum velocity, but it doesn't enable them by default.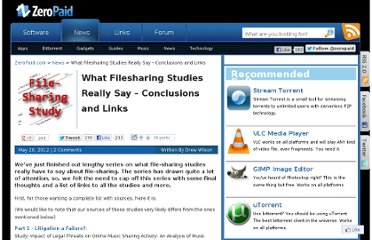 We've just finished out lengthy series on what file-sharing studies really have to say about file-sharing. The series has drawn quite a lot of attention, so, we felt the need to cap off this series with some final thoughts and a list of links to all the studies and more. First, for those wanting a complete list with sources, here it is:
Every month, Google makes tons of tiny changes to the way search works. It shares them in company blog posts that present a list of carefully scripted bullet points with mysterious code names in an inscrutable order. The company never comments on the changes beyond what they say in these announcements. But it's always informative to spread the puzzle pieces out on the table and see what Google is up to.
Could the Death Star really destroy a planet? Back in 2008, I posted that astrophysicist and mathematician Jeanne Cavelos, author of The Science of Star Wars , speculated that indeed, the Death Star could be that deadly. Last year, another group of scientists published a paper addressing the same question. And these researchers from the University of Leicester's Department of Physics and Astronomy came to the same conclusion. According to the paper abstract, "A simplified planet is used giving an energy required to destroy as 2 x 10 27 J. Since the Death Star's power source has a much greater energy output it is feasible to destroy a planet with such a space station."
Summary Developers creating JavaScript applications these days usually use a combination of patterns like MVC/MV*, modules, widgets and plugins for their architecture.Whilst this works great for apps that are built at a smaller-scale, what happens when your project starts to grow? In this talk, I present an effective set of design patterns for small, medium and large-scale JavaScript applications. You'll learn how to separate concerns, keep your application logic decoupled, build modules that can exist on their own or be dropped into other projects and scale your applications to minimize any breakage in the user experience. Slides The slides for this presentation can be found over on SpeakerDeck.
The book has now been published by Cambridge University Press. The publisher is offering a 20% discount to anyone who buys the hardcopy Here . By agreement with the publisher, you can still download it free from this page. Cambridge Press does, however, retain copyright on the work, and we expect that you will obtain their permission and acknowledge our authorship if you republish parts or all of it.
The popular file upload site Megaupload was taken down today as part of a US DOJ investigation into the site for breaches of US copyright law. From reading the indictment and digging around online you can start to reverse-engineer how the investigation was carried out. The evidence in the grand jury indictment is of four forms: Internal emails, dating back to 2005 - including correspondance between staff members and support emails.
Adobe is all about enabling designers and developers to create the most expressive content possible, regardless of platform or technology. For more than a decade, Flash has enabled the richest content to be created and deployed on the web by reaching beyond what browsers could do. It has repeatedly served as a blueprint for standardizing new technologies in HTML.