Applications
yEd is a powerful desktop application that can be used to quickly and effectively generate high-quality diagrams. Create diagrams manually, or import your external data for analysis. Our automatic layout algorithms arrange even large data sets with just the press of a button. yEd is freely available and runs on all major platforms: Windows, Unix/Linux, and Mac OS X .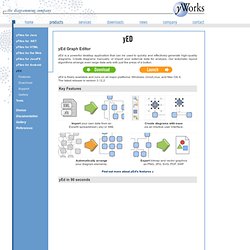 The Calligra project, being part of the KDE community, is dedicated to producing Free Software. Therefore you can download and install Calligra Suite in most cases free of charge. While the Calligra project only provides source code, it is easily installable through the package manager of many linux distributions , FreeBSD . There is also preliminary support on Mac OS X and Windows . Installer for OS X We also provide experimental installer on OS X, current version can be downloaded here .
Get Calligra | Calligra Suite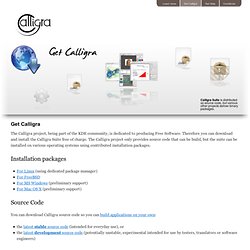 StreamMyGame
Not all computers have the latest in bleeding edge hardware or play Crysis on the highest graphics. However, for those who have one very capable gaming computer – but also one not so capable computer, StreamMyGame offers a way to let you play Crysis on that laptop with 512MB of RAM and other not so impressive specifications. Another bonus is the support for a Linux client , but today we'll be focusing on Windows to Windows streaming. A couple of limitations: one, you'll have to pay to use resolutions higher than 640 x 480 while streaming. Two, the graphics quality will be reduced quite a bit as you're streaming the game and you'll be limited by your network. Three, they also ask you to pay to stream over the Internet beyond a trial.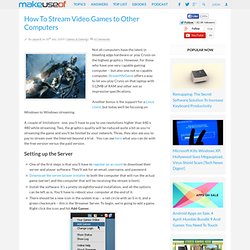 How To Stream Video Games to Other Computers
Free Download Magic Partition Manager freeware: EaseUS Partition Manager, Disk & Partition Copy and Partition Recovery Software.
Free Download EaseUS ALL-IN-ONE Partition Manager Software. Please turn off all download managers before selecting your product. Some download managers will cause this operation to work incorrectly. DEMO LIMITATION: The demo version is not able to apply any partition operation. WinPE bootable disk is only available in Full Edition. Protect Your Data and System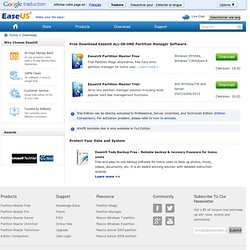 YUMI (Your Universal Multiboot Installer), is the successor to MultibootISOs. It can be used to create a Multiboot USB Flash Drive containing multiple operating systems, antivirus utilities, disc cloning, diagnostic tools, and more. Contrary to MultiBootISO's which used grub to boot ISO files directly from USB, YUMI uses syslinux to boot extracted distributions stored on the USB device, and reverts to using grub to Boot Multiple ISO files from USB , if necessary.