Fabrication
All Makers Now? is a two-day conference exploring craft values in 21st century production at Falmouth University's Penryn Campus in Cornwall on 10-11th July 2014. The digital crafters in the Autonomatic Research Group at Falmouth University invite you to join them in critical debate about a radically transformed vision of 21st century production. In this brave new world of Makerspaces and Fablabs anyone can be a digital craftpreneur, harnessing the power of digital technologies to create, co-create, collaborate, make and sell.
autonomatic_home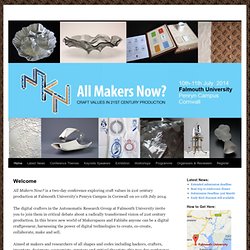 imagine the blog, INFLATEABLE STRUCTURE  DIA/Dessau/ss 2011....
DIA/Dessau/ss 2011. CADlogic/robotics group/inflatable. Workshop/2days. From the first workshop the robotics group was focused on moving inflateable structures that acts and move driven by pneumatic muscles to enrich the possibilities of functions of these type of constructions. A final structure was build as a bigger structure following the principles which was discovered earlier.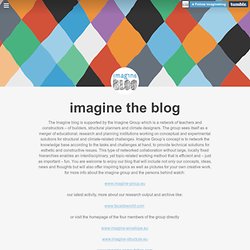 A Technology for Directly Fabricating 3D Living Tissue... Creating living tissue in complex geometries is a challenging issue facing the tissue engineering community. Traditional tissue engineering techniques result in living tissue of simple, often 2D geometries.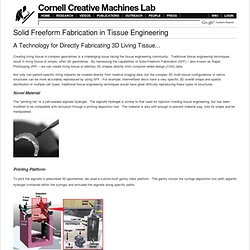 Solid Freeform Fabrication in Tissue Engineering
Fabric / Concrete Cloth Testing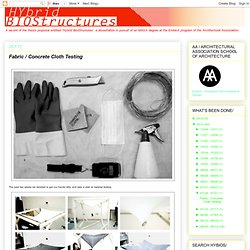 The past two weeks we decided to get our hands dirty, and take a stab at material testing. We tested the fabric that we have been using to create the HYBIOS and several other fabrics, such as cotton and scrim. We used a meter to measure the weight devised from pulling, as well as the displacement threshold before the material would break. The materials were tested on a 1000x1000x1000 mm frame. Concrete cloth was tested at 4 mm thickness.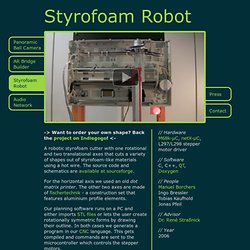 Styrofoam Robot // Jonas Pfeil
-> Want to order your own shape? Back the project on Indiegogo! <-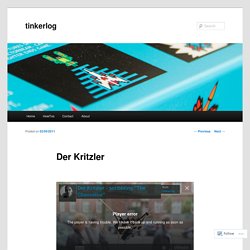 In May I moved into a new office with the great guys of The Future of Everything. The office has really nice big windows and we thought about what we could do with them. I remembered hektor, this super cool 2D drawing machine. What if that thing could draw directly onto the window?
Der Kritzler
Shape to Fabrication - Generative Design and Digital Fabrication in Architecture - in practise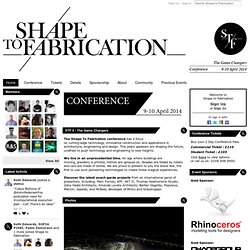 The fifth conference in the Shape to Fabrication series has a primary focus, for the first time all of the presenters have contributed to a single project, the hugely successful 2012 Games held in Stratford, London. Projects including the Main Stadium, Aquatics Centre, Heatherwick Studio's Cauldron, the Torch plus some of the winning sports equipment designers including Speedo and designers of the Team GB Road & Track Bikes. Tickets will be on sale soon. We look forward to seeing you in Stratford.