RECIPES
Corn Burgers with Sun-Dried Tomatoes and Goat Cheese. Vegetarian Mexican Tacos - Simple Easy to Cook Recipe by Archana's Kitchen. Vegetarian Mexican Tacos is a very popular Mexican dish, that has the crisp tacos filled with salads, beans and topped with cheddar cheese and sour cream.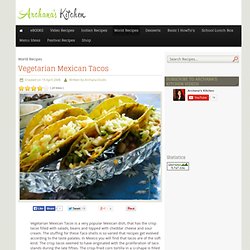 The stuffing for these Taco shells is so varied that recipes get evolved according to the taste palates. In Mexico you will find that tacos are of the soft kind. The crisp tacos seemed to have originated with the proliferation of taco stands during the late fifties. The crisp-fried corn tortilla in a U-shape is filled with layers of hot baked beans, sliced lettuce, diced tomatoes and grated cheese (usually cheddar).
These Vegetarian Mexican Tacos can make a sumptuous and healthy dinner for a family. Vegetarian Taco Salad Recipe. Mexican salsa - a selection of recipes for Mexican salsa, a cold, spicy tomato-based dip. In Spanish, "salsa" means sauce and can be used to describe any type of sauce that is served with food, whilst in the English language, "salsa" refers to the tomato-based spicy condiment that is served as a dip with Mexican food.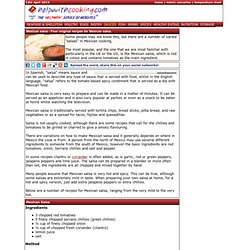 Mexican salsa is very easy to prepare and can be made in a matter of minutes. It can be served as an appetizer and is also very popular at parties or even as a snack to be eaten at home whilst watching the television. Mexican salsa is traditionally served with tortilla chips, bread sticks, pitta bread, and raw vegetables or as a spread for tacos, fajitas and quesadillas. Salsa is not usually cooked, although there are some recipes that call for the chillies and tomatoes to be grilled or charred to give a smoky flavouring. There are variations on how to make Mexican salsa and it generally depends on where in Mexico the cook is from. Veggie Tacos Recipe. Packaged corn tortillas vary in quality.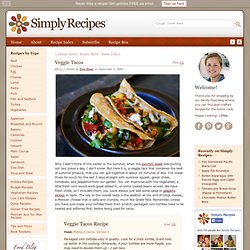 Look for a thick tortilla, it will hold up better in the cooking. Otherwise, if your tortillas are more fragile, you may need to double them up - 2 per taco. Method. Asparagus and Avocado Wrap Recipe, Wrap Recipes, Vegetable Wrap Recipes, Appetizer Recipes, Asparagus Recipes, Avocado Recipes, Low Fat Recipes, Low Calorie Recipes, Diet Recipes. These Asparagus and Avocado Wraps are fabulous and also low-fat and low calorie!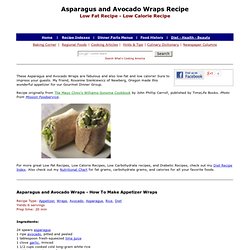 Sure to impress your guests. My friend, Roxanne Sienkiewicz of Newberg, Oregon made this wonderful appetizer for our Gourmet Dinner Group. Recipe originally from The Mayo Clinic's Williams-Sonoma Cookbook by John Phillip Carroll, published by TimeLife Books. Photo from Mission Foodservice. Tomato and Avocado-Goat Cheese Crostini Recipe, How To Make Crostini, Appetizer Recipes, Tomato Recipes, Avocado Recipes. Baking Corner | Regional Foods | Cooking Articles | Hints & Tips | Culinary Dictionary | Newspaper Columns Recipe and photo courtesy of The California Tomato Commission.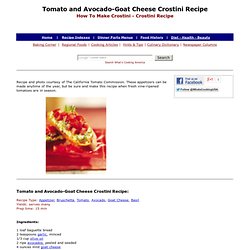 These appetizers can be made anytime of the year, but be sure and make this recipe when fresh vine-ripened tomatoes are in season. Vegetable Rolls with Chili Mayonnaise Recipe : Giada De Laurentiis. Moroccan Phyllo Rolls with Balsamic Maple Sauce (Vegan.com Top 10 Recipe, 2008) Recipe from Eat, Drink, & Be Vegan by Dreena Burton.Buy the book from Amazon.com.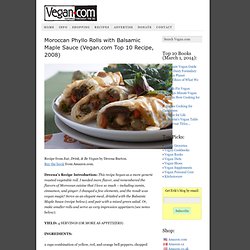 Dreena's Recipe Introduction: This recipe began as a more generic roasted vegetable roll. I needed more flavor, and remembered the flavors of Moroccan cuisine that I love so much – including cumin, cinnamon, and ginger. California Grilled Veggie Sandwich Recipe. Food - Recipes : Cherry tomato, marinated feta and basil skewers. Vegetarian Recipes. Little House of Veggies: Crispy Vegetable Lavash Wraps with Spicy Hummus dip. Basic Omelet Recipe - Easy Folded Omelet.
How to Make an Omelet Many people are intimidated by omelets, but if you can make scrambled eggs, you can make an omelet.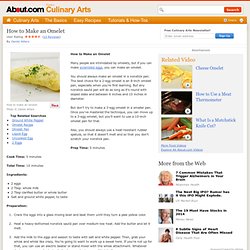 You should always make an omelet in a nonstick pan. The best choice for a 2-egg omelet is an 8-inch omelet pan, especially when you're first learning. But any nonstick sauté pan will do as long as it's round with sloped sides and between 6 inches and 10 inches in diameter. Cheese Omelette Recipe - How To Make Cheese Omelette - Cheese Omelette Receipe. Ingredients: 2 Eggs 3 tblsp Milk 1/2 cup grated Cheese 2 chopped Green Chilli (Hari mirch) Salt to taste 1 tsp White Pepper A pinch of Mustard Powder 1 tblsp Butter How to make cheese omelette: Beat the eggs thoroughly along with the salt, mustard powder, green chillies and the pepper powder.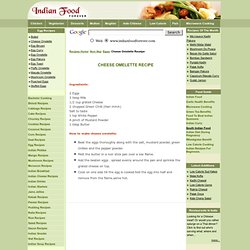 Melt the butter in a non stick pan over a low flame. Cheeky Kitchen & Good, Holy Heck Portabella Burgers. People.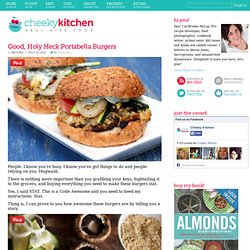 I know you're busy. I know you've got things to do and people relying on you. Hogwash. There is nothing more important than you grabbing your keys, hightailing it to the grocers, and buying everything you need to make these burgers stat. Easy Sweet Potato Veggie Burgers! With Avocado. Crave a veggie burger.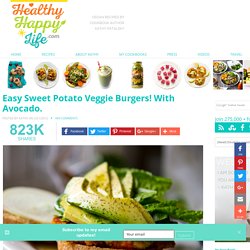 One with Panko-crusted edges - infused with tender sweet potato and creamy, rustic white beans. Tall stacked on a toasted grain bun - crisp romaine leaves sprawling out the sides. Quinoa Upma | 365 Days of Pure Vegetarian © Not your usual upma ~ Quinoa Upma Quinoa Quinoa pronounced as Keen-wah protein is a seed that has a crunchy texture and a somewhat nutty flavor when cooked. It is an ancient grain native to South America. It gives great stamina and used in ancient times by warriors. The Vegan Stoner. Worknight Dinner: Creamy Avocado Pasta. This post is one that's long overdue.
It's long overdue because there are few things easier and more delicious than this pasta. I am obsessed with it. Of course, my obsession with avocados is nothing new but the idea of blending avocados into pasta was new to me when Angie made it for dinner one Friday night. The fact that avocados are healthy for you is a delightful bonus. They're rich, creamy and indulgent – all words that are usually associated with the phrase "need to go to the gym." Green Kitchen Stories & Broccoli Pesto. © 2011 Green Kitchen Stories If I say pesto you say … broccoli?!
No, I didn't think so. Like most people we are normally pretty conservative when we make pesto. For us, it might have something to do with the fact that it is one of Luise's favorite things to eat. Why change a winning concept? Twenty for Twenty: Vegetarian Edition Article.
---