Books/Literature/Writing.
Classic Literature Network - Online literature, book reviews, poetry, forums, biographies and quotations. Do Not Stand At My Grave And Weep - StumbleUpon. I came across this poem recently in StumbleUpon.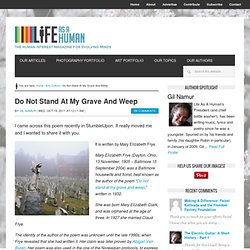 It really moved me and I wanted to share it with you. It is written by Mary Elizabeth Frye. Bibliomania - Free Online Literature and Study Guides. Www.oscarwildecollection.com - StumbleUpon. MPT: Knowing Poe: Home. Letters of Note: The most beautiful death. Intuitionistic Theism: Religion without Faith. What Youll Wish Youd Known - StumbleUpon. January 2005 (I wrote this talk for a high school.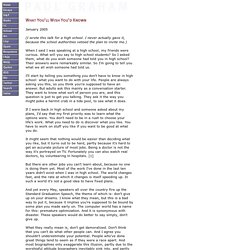 I never actually gave it, because the school authorities vetoed the plan to invite me.) A Brilliant List of Science Books for People Who Want Their Minds Blown. 50 Most Influential Books of the Last 50 (or so) Years - StumbleUpon. In compiling the books on this list, the editors at SuperScholar have tried to provide a window into the culture of the last 50 years.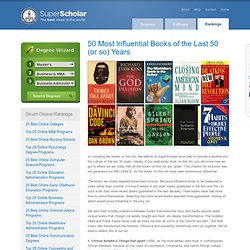 Ideally, if you read every book on this list, you will know how we got to where we are today. Not all the books on this list are "great." The criterion for inclusion was not greatness but INFLUENCE. All the books on this list have been enormously influential. The books we chose required some hard choices. The 10 Types of Writers Block (and How to Overcome Them) - StumbleUpon. #4 was a really common event in my undergrad screenwriting classes (where it was commonly called the Page 70 Problem or the Act 2 Dead Zone or some other ridiculous name).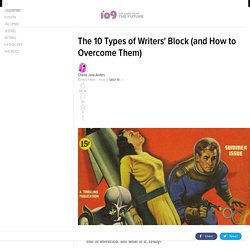 It is really where outlining-as-you-go can prevent problems. For instance, I might have a ten point outline for the whole story and as I catch up to various points I may go back over the outline and flesh out points with another outline. If a scene is really tricky, my outline might be as specific as three points for five pages. The Best 100 Opening Lines From Books / Life / Stylist Magazine - StumbleUpon.
Chosen by: Clare Balding "It was the best of times, it was the worst of times, it was the age of wisdom, it was the age of foolishness, it was the epoch of belief, it was the epoch of incredulity, it was the season of Light, it was the season of Darkness, it was the spring of hope, it was the winter of despair, we had everything before us, we had nothing before us, we were all going direct to Heaven, we were all going direct the other way."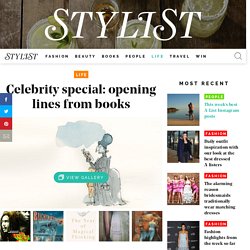 A Tale Of Two Cities, Charles Dickens. Books that will induce a mindfuck - StumbleUpon.