Biology
Biology Teaching Resources for Students and Teachers Presentations, Experiments, Questions, and Answers Biology Presentations Seven PowerPoint Presentations to introduce the basic concepts for an understanding of the underlying principles of Biology.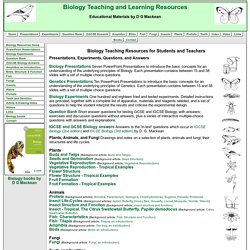 Biology is the study of life and living organisms, from the smallest bacteria to giant sequoias. Biologists use observation and experimentation to gain an understanding about the natural world. Branches of biology include anatomy, biotechnology, botany, cell biology, ecology, genetics, medicine, microbiology, molecular biology, and zoology. Many people entering the field of biology become specialized in a particular area.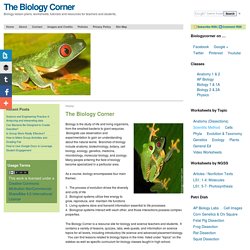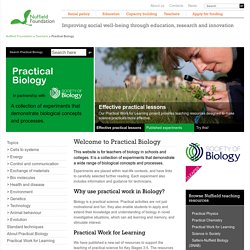 This website is for teachers of biology in schools and colleges. It is a collection of experiments that demonstrate a wide range of biological concepts and processes. Experiments are placed within real-life contexts, and have links to carefully selected further reading.