WoW
World of Warcraft Europe -> États des royaumes
Death Knight Builds - WOW Death Knight talent guide
Death Knight Builds (Updated for Mists of Pandaria Patch 5.4) This site contains popular WOW Death Knight Builds and other resources on how to play a Death Knight. As you all know, the Death Knight class player class was released during the Cataclysm expansion for World of Warcraft(WOW). The Death Knight has changed a lot with the release of the newest expansion, Mists of Pandaria. A little bit about the Death Knight Class: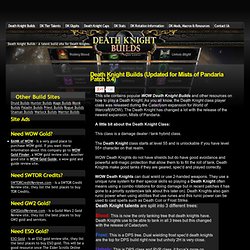 List of raid gear without raiding » pwnwear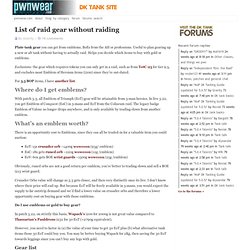 Plate tank gear you can get from emblems, BoEs from the AH or professions. Useful to plan gearing up a new or alt tank without having to actually raid. Helps you decide which items to buy with gold or emblems.