Free stuff with blog
MomImpact
I've never been a fan of the term mommyblogger. In fact, it's also long raised the ire of many of my peers. Though I tend to feel better about the term mom blogger, I started using the term social media mom in 2008. It just made sense. A typical "mom blogger" does more than blog. She's active on Twitter and Facebook.
Global Influence
About Us Global Influence is a network of more than 1500 bloggers and social media users who have chosen to receive campaign information tailored specifically to their audience and to Global Influence client needs. Learn More! Contact Us We're available and ready to work with you to create the perfect custom campaign.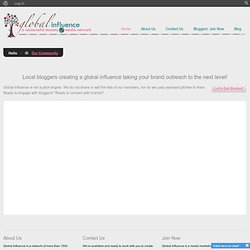 Collective Bias | Real Shopper Media
Communities and Conversations for Blogs and Brands
Cooperative (noun) : an enterprise or organization owned by and operated for the benefit of those using its services (adjective) : marked by a willingness and ability to work with others Buzz Cooperative began primarily as a place where PR and brand representatives could connect with influential bloggers who were interested in working together on promotional campaigns.
Buzz Cooperative - Home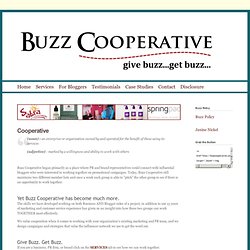 Work with us! momspark@gmail.com Welcome to Mom Spark Media LLC, a division of Mom Spark™ – A Blog for Moms.
mom spark media llc – a social media company for mom bloggers, brands & PR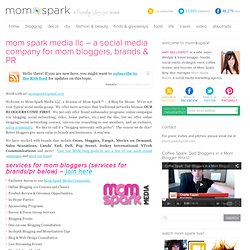 Connecting & Sharing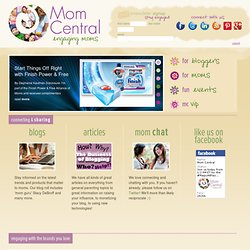 Disclosure: The Ad Council is a client of Mom Central Consulting. Engaging kids in a discussion around bullying proves a challenge for most parents. Yet the Ad Council opened a conversational door this month through its Be More Than a Bystander Campaign that launched new public service advertisements (PSAs) as part of Bullying Prevention Awareness Month. The program helps parents start a dialogue with their kids about bullying and helps them share tools and actionable steps kids can take to diffuse bullying when they see it happen.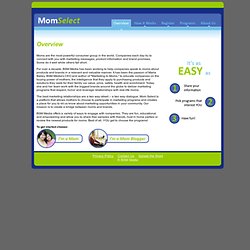 Overview Moms are the most powerful consumer group in the world. Companies each day try to connect with you with marketing messages, product information and brand promises. Some do it well while others fall short. For over a decade, BSM Media has been working to help companies speak to moms about products and brands in a relevant and valuable manner. It has been the passion of Maria Bailey, BSM Media's CEO and author of "Marketing to Moms," to educate companies on the buying power of mothers, the intelligence that they apply to purchasing products and solutions they seek for their family via value, price, safety, health and enrichment.
MomSelect - Programs for Moms including in-home parties, samples and surveys
MyBlogSpark™ - Connect. Share. Discuss. | Home