ID crisis
Twitter - Melle. TweetCube. StickyTwits. Klout. Futuretweets. Twitpic. TweetBeep. Twitter Tools. Hootsuite. Twtapps. TweetDeck. Twitter Comics.
As you probably already know, Twitter is hotter than ever.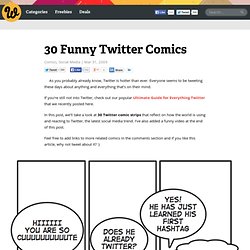 Everyone seems to be tweeting these days about anything and everything that's on their mind. If you're still not into Twitter, check out our popular Ultimate Guide for Everything Twitter that we recently posted here. In this post, we'll take a look at 30 Twitter comic strips that reflect on how the world is using and reacting to Twitter, the latest social media trend. Blog - Melle. Open brief aan minister Eurlings, Geachte heer Eurlings, Het spijt me u te moeten berichten, dat het voor mij onmogelijk is te bekijken of ik deze kilometer heffing nog kan betalen.
Mijn financiële positie is zeer onoverzichtelijk geworden dankzij de toepassing van: De Arbeidswet, de Auteurswet, de Horecawet, de Beurswet, de Loterijwet, de Motorrijtuigenwet, de Warenwet, de Woningwet, de Drankwet, de Gezondheidswet, de Winkelsluitingswet, de Invalidewet, de Vestigingswet t/m de Ziekenwet enz. enz. Die op een weerloos publiek wordt losgelaten. Door al deze verschillende wetten, ben ik zo terneergeslagen, uitgeput, uitgebuit, uitgewonnen, uitgetrokken en uitgeperst, dat ik niet meer weet waar ik aan toe ben, hoe ik moet zijn en of ik er nog wel ben.
---