ID crisis
Twitter - Melle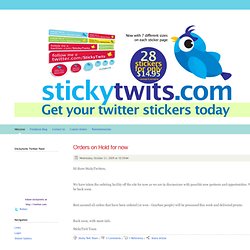 StickyTwits
When we first promoted the idea of using stickers to promote online presence and business, they all thought we were nuts. Along came Twitter, Xing, digg, Facebook, Plurk, Bebo, MySpace, etc etc. Guess who's laughing now!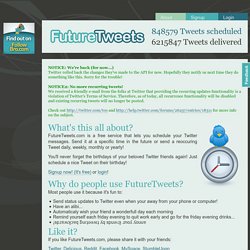 NOTICE: We're back (for now...) Twitter rolled back the changes they've made to the API for now. Hopefully they notify us next time they do something like this.
If you love Twitter, you'll love TweetBeep! Keep track of conversations that mention you, your products, your company, anything, with hourly updates! You can even keep track of who's tweeting your website or blog, even if they use a shortened URL (like bit.ly or tinyurl.com). Now, how cool is that?! Great for online reputation management, catching all your @replies and @mentions, finding job/networking opportunities, keeping up on your favorite hobby, and more! TweetBeep has been featured in the Wall Street Journal and the NY Times!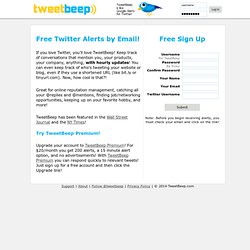 Open brief aan minister Eurlings, Geachte heer Eurlings, Het spijt me u te moeten berichten, dat het voor mij onmogelijk is te bekijken of ik deze kilometer heffing nog kan betalen. Mijn financiële positie is zeer onoverzichtelijk geworden dankzij de toepassing van: De Arbeidswet, de Auteurswet, de Horecawet, de Beurswet, de Loterijwet, de Motorrijtuigenwet, de Warenwet, de Woningwet, de Drankwet, de Gezondheidswet, de Winkelsluitingswet, de Invalidewet, de Vestigingswet t/m de Ziekenwet enz. enz. Die op een weerloos publiek wordt losgelaten. Door al deze verschillende wetten, ben ik zo terneergeslagen, uitgeput, uitgebuit, uitgewonnen, uitgetrokken en uitgeperst, dat ik niet meer weet waar ik aan toe ben, hoe ik moet zijn en of ik er nog wel ben.
Blog - Melle