Cooking
Chocolate Cheesecake Cake. Chocolate Cheesecake Cake You know how some people really don't get along well with their In-Laws?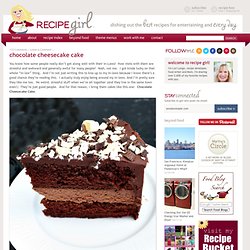 How visits with them are stressful and awkward and generally awful for many people? Yeah, not me. Chocolate Mousse Cakes, Chocolate Mousse Recipes, Mousse Cakes. Posted by Grace Massa Langlois on Saturday, 19th March 2011 Chocolate, chocolate and more chocolate – try to resist these Triple Chocolate Mousse Cakes – "betcha can't eat just one"!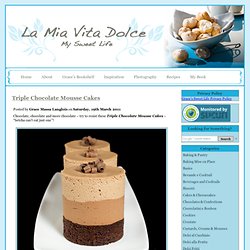 I've faced countless temptations since beginning my "Sweet" journey into desserts but none have been as irresistible as this one. The allure? Baked Egg Boat recipe. Breakfast is my favorite meal.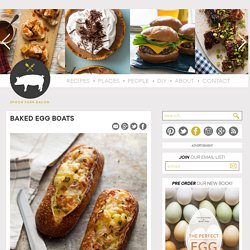 I like to drink iced coffee and watch the cream climb its way down the chunky ice cubes in a dazy before the caffeine hits. I like to order bacon with whatever I'm eating. I like eating potatoes with ketchup. I like eggs over easy, and fluffy scrambled eggs. I pretty much like everything there is to like about breakfast. Easy Tater Tot Casserole Recipe. You know you've all been there — nights where you have no idea where the day went and you have multiple sets of big eyes staring at you with that famished look on their faces.
On nights like that, I often go for a tried and true, quick and easy recipe like Tater Tot Casserole. I like recipes like this one, because I always have the ingredients on hand and I can make a meal the whole family will love without much effort and time. Pepperoni Pizza Monkey Bread. How do you make bread even better?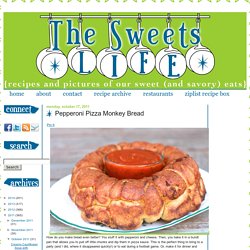 You stuff it with pepperoni and cheese. Then, you bake it in a bundt pan that allows you to pull off little chunks and dip them in pizza sauce. This is the perfect thing to bring to a party (and I did, where it disappeared quickly!) Coconut Banana Bread. Chocolate Chip Cookie Dough Truffles. Chocolate Chip Cookie Dough Truffles I've never liked chocolate chip cookies.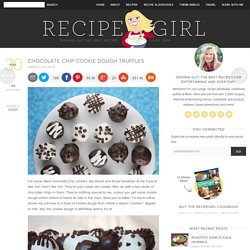 Go ahead and throw tomatoes at me if you'd like, but I don't like 'em. They're just a plain old cookie, after all, with a few studs of chocolate chips in them. They're nothing special to me, unless you get some cookie dough-action before it meets its fate in the oven. Recipes at Bake Decorate Celebrate! Peppermint. One-Pan Dark Chocolate Chunk Skillet Cookie. Baking Cups, Cupcake Liners. Most favorited all-time. Pasta Pie.
With the enthusiasm my children showed for this recipe, you would have thought I reinvented the wheel.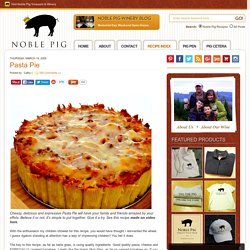 I guess rigatoni standing at attention has a way of impressing children? It is kind of cool. Leave it to Martha to come up with another bang-buster of an idea to get my house in a tizzy. Caramel Apple Pie Cupcakes « The Craving Chronicles. It seems like once the weather cools down everyone wants to jump right into pumpkin season.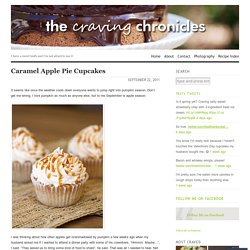 Don't get me wrong, I love pumpkin as much as anyone else, but to me September is apple season. I was thinking about how often apples get overshadowed by pumpkin a few weeks ago when my husband asked me if I wanted to attend a dinner party with some of his coworkers. The Infamous Jacques Torres Chocolate Chip Cookies. Now, I have a chocolate chip cookie recipe that I swear by.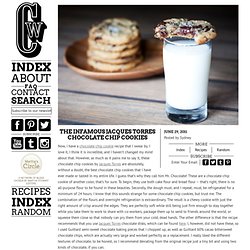 I love it, I think it is incredible, and I haven't changed my mind about that. However, as much as it pains me to say it, these chocolate chip cookies by Jacques Torres are absolutely, without a doubt, the best chocolate chip cookies that I have ever made or tasted in my entire life. I guess that's why they call him Mr. Bakerella.com. Red Velvet Cheesecake Brownies.
Red Velvet Cheesecake Brownies These Red Velvet Cheesecake Brownies are rich, decadent and so perfect for Valentine's Day!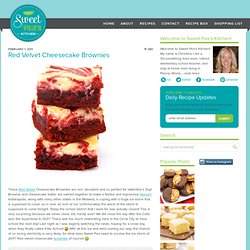 Brownie and cheesecake batter are swirled together to make a festive and impressive dessert. Indianapolis, along with many other states in the Midwest, is coping with a huge ice storm that is supposed to cover us in over an inch of ice. Unfortunately the worst of the storm is supposed to come tonight. The Pioneer Woman | Ree Drummond.
---