Novelty and Holidays
Photos du journal - Architecture & Arts. Photos du journal. Photos de Judy Key. Photos de Brandy Sartain Harris. Photos du journal. Photos de Tricia L Mayo-Curtis. Photos du journal. Photos du journal. The Game of Love. I just love hearing about couples getting engaged...don't you?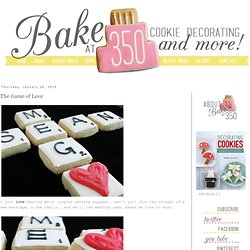 Just the thought of a new marriage, a new family...and well, the wedding cake, makes me turn to mush. My cousin Meg got engaged last month...yay! Photos du journal. Photos du journal. (2) Facebook. Party / this is a great idea for a party so everyone isn't crowded around a dip tray and double dipping. Recipes, cooking ideas, and recipe of the day | Cooking.
Panda CupCake. Check out my new ible : Vote me for the Play With your Food Contest ;) Kisses Mary ........................................................................................................................................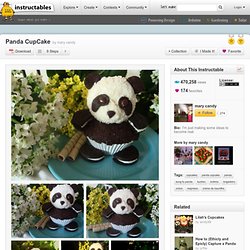 Once upon a time, there was a little panda... Not long ago he ceased exhisting, because I ate him. LOL Here´s a pet that everyone will want. (1) Facebook. Cheesecake Stuffed Strawberries. What? Yes! - SugarBlog - SugarDerby. Um... ok.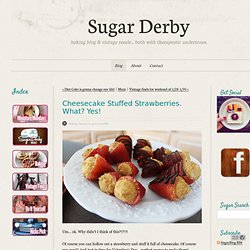 Why didn't I think of this?!?!?! Of course you can hollow out a strawberry and stuff it full of cheesecake. Of course you can!!! Party / Dinosaur Party Theme. Party / Birthday centerpiece idea for any age -- tie balloons on top--fill with any candy. Party / Pineapple palm fruit tree. Party / cake pop ice cream cones. These are so cute!
Party / Lego man lego cake. Untitled. Easter DIY Tutorial: Carrot Shaped Cupcakes. In a few days, Peter Cottontail will be hoppin' down the bunny trail… so we better have some carrots ready for him!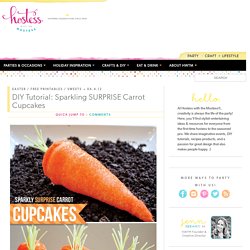 But not just any carrots. Really, how many boring carrots can one bunny eat? I say we go for sparkling carrots with a surprise inside! Hi, it's Carrie Sellman from Half Baked, the cake blog for sweet inspiration. Handmade charlotte :: DIY Pinata Cookies :: design for kids and the home. Awesome Bento Art | Photo Gallery. Untitled. (2) Facebook. (2) Facebook. Hydrangea Cupcakes. Deep Dish Fruit Pizza. My sister-in-law Missy first introduced me to the concept of fruit pizza years and years ago, and here's how: she brought one to my house and I proceeded to eat the whole thing.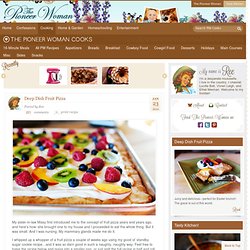 But it was small. And I was nursing. My mammary glands made me do it. I whipped up a whopper of a fruit pizza a couple of weeks ago using my good ol' standby sugar cookie recipe…and it was so darn good in such a naughty, naughty way. (11) Facebook. - StumbleUpon. This may look like a perfectly innocent cake meant to lure a leprechaun to the top but it has a few secrets.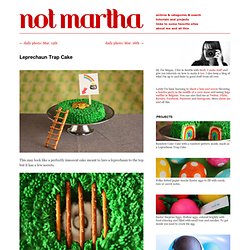 Secret #1: Beneath the pile of gold coins are fragile bars, when the leprechaun approaches to grab the coins he'll fall into the pit and be trapped. Secret #2: There is a rainbow hiding inside the cake. The leprechaun will discover this as he eats his way to freedom. Have you heard of Leprechaun traps? I hadn't encountered these until this year, and I am completely charmed by them. Piecaken - Star 94.1.
---