Hiking
Estimate remaining daylight. GEAR CHECKLIST. Mangan's 10 Essentials for Happy Hiking. Most of these aren't essential for survival; they're essential to me for having a good time on on a hike.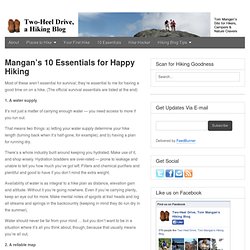 (The official survival essentials are listed at the end) 1. A water supply It's not just a matter of carrying enough water — you need access to more if you run out. That means two things: a) letting your water supply determine your hike length (turning back when it's half-gone, for example); and b) having a plan for running dry. Camping Checklist – Camping List. Preparation is essential for any outdoor adventure.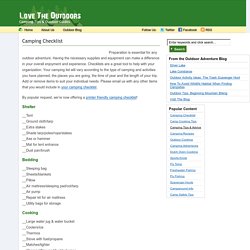 Having the necessary supplies and equipment can make a difference in your overall enjoyment and experience. Checklists are a great tool to help with your organization. Your camping list will vary according to the type of camping and activities you have planned, the places you are going, the time of year and the length of your trip. Add or remove items to suit your individual needs. Zen Backpacking - Ultralightweight Backpacking Packing List. Contact: Ultralightweight Backpacking Packing List For backpacking, less is more.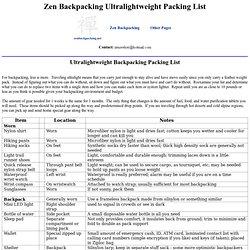 Traveling ultralight means that you carry just enough to stay alive and have move easily since you only carry a feather weight pack. Instead of figuring out what you can do without, sit down and figure out what you must have and can't do without. Shenandoah National Park - Backcountry Camping - Beginner Trips. New and Beginner Backpacking Trips Using Campgrounds Is this your first time backpacking?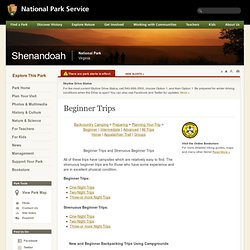 Perhaps you are trying out new equipment? Hikes - New York. Appalachian Trail Parking, Access Areas, Maps and Pictures. Hiking Trails, Mountain Bike Trails & Trail Maps | Trails.com - StumbleUpon. Hiking Trails, Camping in Parks, Maps and Hotels | Outdoor Adventure on PICKATRAIL& - StumbleUpon.
---