Remote Sensing
The Leader In Online Imagery - Aerial Photos & Satellite Images. YouTube. Eurimage. View from Satellite. Your Sky. By John Walker Welcome to Your Sky, the interactive planetarium of the Web.
You can produce maps in the forms described below for any time and date, viewpoint, and observing location. DSRS: Satellite-Related Web Sites. Note!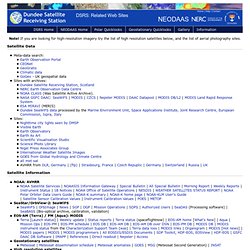 If you are looking for high-resolution imagery try the list of high resolution satellites below, and the list of aerial photography sites. Satellite Data.
---