Church
Get flash to fully experience Pearltrees
Name the top five TV Moms. Which one is the closest to what you would call a real mom? Name five mothers from Scriptures.
By Marilyn Adamson Just once wouldn't you love for someone to simply show you the evidence for God's existence? No arm-twisting. No statements of, "You just have to believe."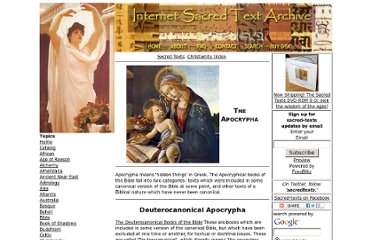 Sacred Texts Christianity Index Apocrypha means 'hidden things' in Greek. The Apocryphical books of the Bible fall into two categories: texts which were included in some canonical version of the Bible at some point, and other texts of a Biblical nature which have never been canonical. Deuterocanonical Apocrypha The Deuterocanonical Books of the Bible These are books which are included in some version of the canonical Bible, but which have been excluded at one time or another, for textual or doctrinal issues.
The Bible, from cover to cover, answers the question, "Who is this Jesus?"
Start Here The goal of Red Letter Christians is simple: To take Jesus seriously by endeavoring to live out His radical, counter-cultural teachings as set forth in Scripture, and especially embracing the lifestyle prescribed in the Sermon on the Mount.