Office
Speedtest.net - The Global Broadband Speed Test. Keyboard shortcuts for Microsoft Outlook 2010 - Outlook - Micros. Some of the content in this topic may not be applicable to some languages.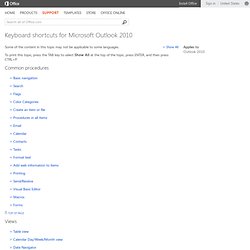 To print this topic, press the TAB key to select Show All at the top of the topic, press ENTER, and then press CTRL+P. Common procedures. USPS - The United States Postal Service (U.S. Postal Service) QR Code Generator and DataMatrix Barcode Generator.
Sales Taxes
Email Fax - Services de Fax par Internet | eFax.
---