Sensor network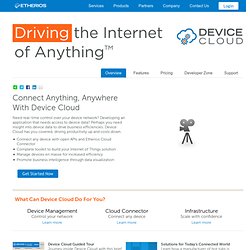 Need real-time control over your device network? Developing an application that needs access to device data? Perhaps you need insight into device data to drive business efficiencies. Device Cloud has you covered, driving productivity up and costs down. Connect any device with open APIs and Etherios Cloud ConnectorComplete toolkit to build your Internet of Things solutionManage devices en masse for increased efficiencyPromote business intelligence through data visualization Get Started Now
[C.A.V.A.] created a cigar humidor with a social life. A humidor stores cigars in a humidity controlled environment to maintain freshness, but this special humidor sends the humidity sensor value to ThingSpeak and alerts Twitter when you need to add water. The project uses a humidity sensor and an Arduino Ethernet to post the data to the ThingSpeak API. Mi Humidor de Cigarros conectado a Internet por medio de un Arduino.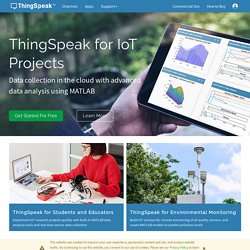 Wireless Sensor Networks
Cisco Systems and Texas Instruments have announced separate efforts to expand partnerships serving the emerging Internet of Things. TI named eight IoT cloud service partners and said more are on the way; Cisco launched a challenge for IoT startups and promised to work with the winners. TI said it will work with 21emetry, ARM, Arrayent, Exosite, IBM, Spark, Thingsquare, and Xively to provide cloud services for customers of its chips. The company said it is continuing to recruit partners in IoT cloud services. The move highlights how quickly new providers of cloud services for IoT are coming out of the woodwork with various skill sets and offerings.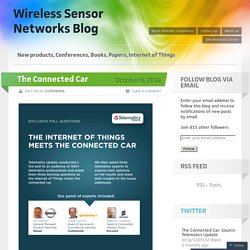 SensorCloud™
Pocket Grow: The Art of Micro Growing & Micro Gardening