Robots
Changing Your Idea of What Robots Can Do Boston Dynamics builds advanced robots with remarkable behavior: mobility, agility, dexterity and speed. We use sensor-based controls and computation to unlock the capabilities of complex mechanisms. Our world-class development teams take projects from initial concept to proof-of-principle prototyping to build-test-build engineering, to field testing and low-rate production.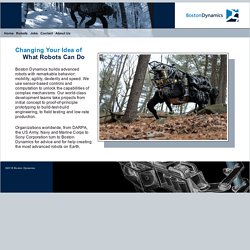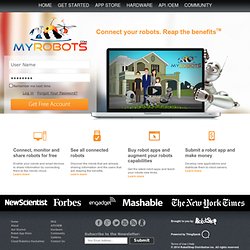 Robot App Store | Cloud robotics | Connect your robots to Internet | MyRobots
Connect, monitor and share robots for free Enable your robots and smart devices to share information by connecting them to the robotic cloud.Learn more See all connected robots Discover the robots that are already sharing information and the users that are reaping the benefits.Learn more
Parrot, the french company well known for the AR-Drone, shows off two new connected toys at the CES 2014. The MiniDrone.The mini quadcopter fits in the palm of your hand, making it a fun and simple toy for the kids (and adults).In its current version, the MiniDrone is still a working project and is powered by a 500MHz processor with 1GB of RAM. The robot packs a variety of sensors under the hood, such as pressure, ultrasonic, and accelerometer, and a gyroscope, all of which help to keep the robot stable. The MiniDrone is controlled with a smartphone app as long as you're within Bluetooth range. Jumping Sumo.Small and burly, the Jumping Sumo bot features ground control thanks to independently driven wheels that allow it to perform instant turns, zippy 180-degree spins, and a amazing pirouette stunt that just might blow your mind.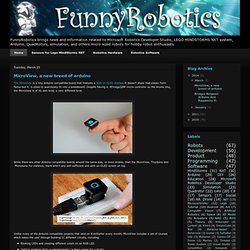 FunnyRobotics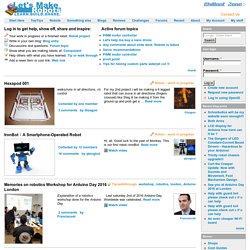 Cheap and useful, to put on your wall or on your table.. You can buy from any of the listed webshops, and to save on shipping, chose the one closest to you [Details here]: For every wall chart sold, $5 USD is donated to the Let's Make Robots community. A big thanks to everyone working on this, to all the shops selling this, and a special thanks to Frank Neon (Reuseum / DJUltis) and Russell Cameron (DAGU / OddBot) for very generous donations, the sole initiative, and a lot of work to make this happen.