Robots
Changing Your Idea of What Robots Can Do Boston Dynamics builds advanced robots with remarkable behavior: mobility, agility, dexterity and speed. We use sensor-based controls and computation to unlock the capabilities of complex mechanisms. Our world-class development teams take projects from initial concept to proof-of-principle prototyping to build-test-build engineering, to field testing and low-rate production.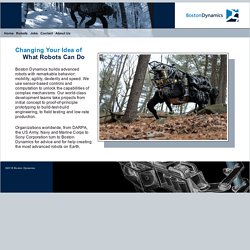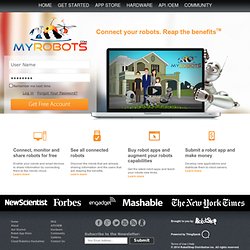 Robot App Store | Cloud robotics | Connect your robots to Internet | MyRobots
Connect, monitor and share robots for free Enable your robots and smart devices to share information by connecting them to the robotic cloud.Learn more See all connected robots Discover the robots that are already sharing information and the users that are reaping the benefits.Learn more
Because of the fact that the Raspberry Pi hasn't got any analog-digital converter, one has been implemented in the shield a converter with a resolution of 12bit, bigger than the 10 bit of the Arduino Uno. With this, the shield has absolute compatibility with the different ways of communication that Arduino has: digital and analog I/O, I2C, SPI y UART, but in Raspberry Pi... Note that this bridge is both compatible with the version 1.0 and 2.0 of the Raspberry, but you will have to download the correct version of the Ardupi. Shields from Arduino and Cooking Hacks are prepared to work at 3.3v without risk of damaging your Arduino DUE or Raspberry Pi. But there are shields of others that they are not prepared, that's why you have always to be sure if it is compatible with Arduino Due.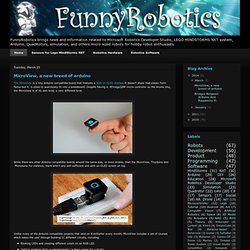 FunnyRobotics