Projects
Main
Open Geiger Project
[Edit 4/10/11] This project is now available in kit form - with PCB and parts. Please click here for more information. I guess I'm a "metroholic". I've always been fascinated with measurement tools, so building a Geiger counter seemed like a logical thing to do.
Arduino Collection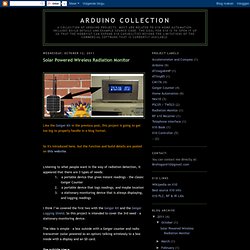 As many of you already know, Minibloq and Multiplo are brother projects. We have been working a lot on Multiplo in the last months, and there is a new website, where we have released a lot of open source mechanical parts 2 weeks ago. These parts has been designed with one important goal: to be fablab compatible.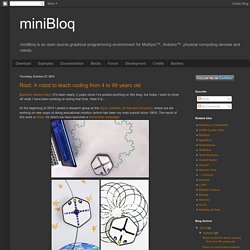 phduino - pH meter using Arduino board for glass electrode.
This project describes an open software open hardware pH meter using an Arduino/Freeduino board. In other words, this is an electronic circuit to be connected with a glass electrode pH sensor. It was possible by the idea from my friend Mr. Denis Vidal, the space that my supervisor gave me, prof.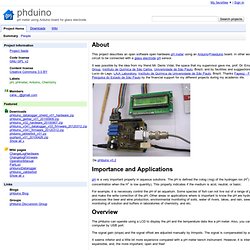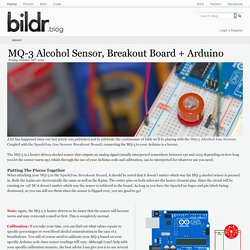 // AccelStepper.h///// \mainpage AccelStepper library for Arduino////// This is the Arduino AccelStepper library./// It provides an object-oriented interface for 2 or 4 pin stepper motors.////// The standard Arduino IDE includes the Stepper library/// (http://arduino.cc/en/Reference/Stepper) for stepper motors.
playground - CM17A
Overview: The CM17A is a dongle that sends X10 commands (ON, OFF, BRIGHT, DIM) via RF to X10 receivers. The receivers then send signals down the house wiring to control lights and appliances.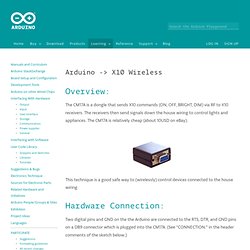 In late 2006 I wrote "arduino-serial", mostly for myself, to help with stuff I was working on at the time. It was a very simple & small, cross-platform tool written in basic C for reading/writing serial ports. Now nearly seven years later I still get regular questions and frustrations about it.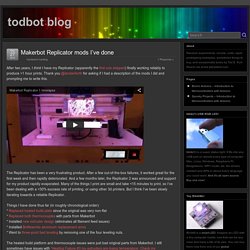 今回はファームウェアの設定とベッドの水平調整について。ファームウェアはjcrocholl/Marlinを選択しました。ダウンロードは下記URLから。 jcrocholl/Marlin - GitHubhttps://github.com/jcrocholl/Marlin ファームウェアの設定 通信速度(ボーレート)を設定。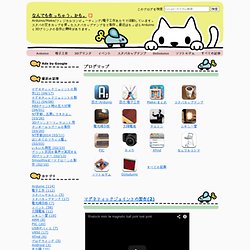 なんでも作っちゃう、かも。
Welcome OpenEnergyMonitor is a project to develop open-source energy monitoring tools to help us relate to our use of energy, our energy systems and the challenge of sustainable energy. The OpenEnergyMonitor system is an end-to-end open-source energy monitoring system that is Arduino IDE compatible: The openenergymonitor system is made up of four main parts: emonTx | emonGLCD | emonBase | emoncms.