Underworld Trilogy
Underworld: Evolution - Official DVD Site. Kate Beckinsale is back as vampire heroine Selene in the highly anticipated sequel to Underworld.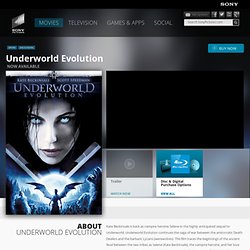 Underworld Evolution continues the saga of war between the aristocratic Death Dealers and the barbaric Lycans (werewolves). The film traces the beginnings of the ancient feud between the two tribes as Selene (Kate Beckinsale), the vampire heroine, and her love Michael (Scott Speedman), the lycan hybrid, try to unlock the secrets of their bloodlines. The tale of action, intrigue and forbidden love takes them into the battle to end all wars as the immortals must finally face their retribution. Screenplay. Underworld: Evolution - Elokuvateatteri.com. Toimivan ja synkähkön esikoiselokuvansa, Underworldin, jälkeen ohjaaja Len Wiseman avioitui Kate Beckinsalen kanssa, mutta nyt hän on palannut takaisin ohjaajan pallille Undeworldin jatko-osan myötä.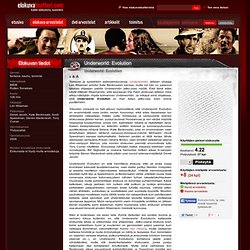 Eikä tämä edes näytä riittävän Wisemanille, sillä seuraavan Die Hard -elokuvan jälkeen mies aikoo näköjään ohjata kolmannen Underworldin. Ja mikäpä siinä ohjatessa, sillä Underworld: Evolution on ihan kelpo jatko-osa: tosin omine puutteineen. Totuuden nimessä on heti alkuun myönnettävä, että Underworld: Evolution on ensimmäistä osaa jonkin verran huonompi, eikä edes itseasiassa tuo aiheeseen oikeastaan mitään uutta: ihmissusia ja vampyyreita esiintyy elokuvassa jälleen kerran, pyssyt laulavat Hoosiannaa ja veri värjää miljöötä reippaissa turpajuhlissa, joissa mm. kaahataan rekalla ja räjäytetään laiva.
Underworld: Evolution. Plot[edit] Viktor did not kill the brothers because he was deceived by Marcus into believing that doing so would result in the immediate extinction of all other vampires and his Lycan slaves.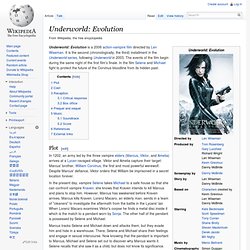 Tanis reveals that Selene's father was the architect who built William's prison and that the pendant is a key to the latter. Viktor killed Selene's family as they knew the prison's location, but turned Selene into a vampire. Underworld - Official DVD Site. In the Underworld, Vampires are a secret clan of modern aristocratic sophisticates whose mortal enemies are the Lycans (werewolves), a shrewd gang of street thugs who prowl the city's underbelly.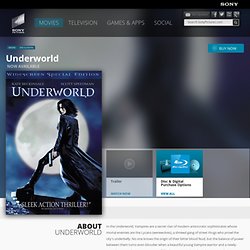 No one knows the origin of their bitter blood feud, but the balance of power between them turns even bloodier when a beautiful young Vampire warrior and a newly-turned Lycan with a mysterious past fall in love. Kate Beckinsale and Scott Speedman star in this modern-day, action-packed tale of ruthless intrigue and forbidden passion all set against the dazzling backdrop of a timeless, Gothic metropolis. Underworld (2003 film) While reviewers generally received the film negatively, criticizing the overacting and lack of character development, a smaller number of reviewers praised elements such as the film's stylish Gothic visuals, the "icy English composure" in Kate Beckinsale's performance, and the extensively worked-out vampire–werewolf mythology that serves as the film's backstory.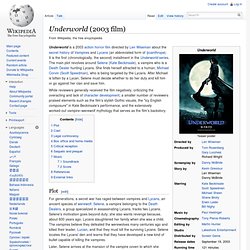 Selene arrives with a group of Death Dealers to kill the Lycans and Kraven for his treachery. Kraven shoots Lucian with a newly designed bullet intended to kill by poisoning a Lycan's bloodstream. Underworld: Unrated Extended Cut DVD - arvostelu. Nahkaa, Kate Beckinsale, vampyyreita ja ihmissusia.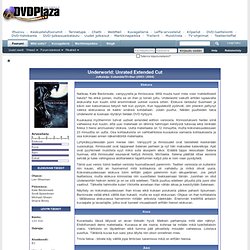 Mitä muuta nuori mies voisi mahdollisesti haluta? No ehkä juonen, mutta se on ihan jo toinen juttu. Underworld vaikutti erittäin lupaavalta elokuvalta kun kuulin siitä ensimmäiset uutiset vuosia sitten. Elokuva rantautui Suomeen ja kävin sen katsomassa tietysti heti kun pystyin. Underworld (film series) Blu-ray cover art of Underworld: The Legacy Collection, which includes all four films.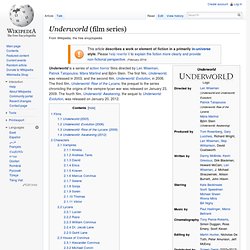 As shown in the film, the original werewolves were uncontrollable beasts, unable to retake human form once bitten. However, there was a single werewolf who gave birth to a human-looking child. This child carried a mutation of the original virus, permitting him to alternate between human and werewolf form. He was Lucian, dubbed by Viktor as "the first of the Lycans". The vampires used the Lycans as slaves to be the guardians of their lairs during the daylight hours and labor during the night. Underworld: Rise of the Lycans - Official DVD Site. The prequel story traces the origins of the centuries-old blood feud between the aristocratic vampires known as Death Dealers and their onetime slaves, the Lycans.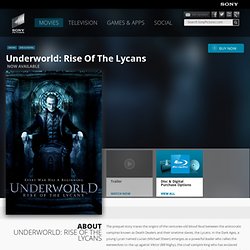 In the Dark Ages, a young Lycan named Lucian (Michael Sheen) emerges as a powerful leader who rallies the werewolves to rise up against Viktor (Bill Nighy), the cruel vampire king who has enslaved them. Lucian is joined by his secret lover, Sonja (Rhona Mitra), in his battle against the Death Dealer army and his struggle for Lycan freedom. Screenplay Danny McBride. Underworld 3 - Ihmissusien nousu | Underworld: Rise of the Lycan.
Kerta kaikkiaan aikaisemmat leffat nähneille turhauttava, ja muille aika turha pätkä vampyyrien ja ihmissusien taistosta.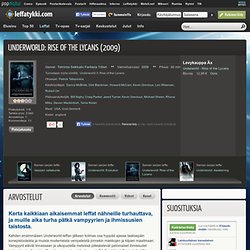 Kahden ensimmäisen Underworld-leffan jälkeen kolmas osa hyppää ajassa taaksepäin konepistooleista ja muista moderneista vempeleistä jonnekin miekkojen ja kilpien maailmaan. Vampyyrit elävät linnassaan ja ulkopuolella metsissä piileskelevät petomaiset ihmissudet joista viimeisetkin inhimillisyyden rippeet ovat kadonneet. Edellisistäkin leffoista tuttu Viktor (Nighy) on vampyyrien johtaja ja Sonja (Mitra) on hänen tyttärensä. Underworld: Rise of the Lycans - Wikipedia, the free encyclopedi. Plot[edit] Lucian learns about Sonja's imprisonment and eventually rescues her from her room but they are stopped from escaping by Viktor.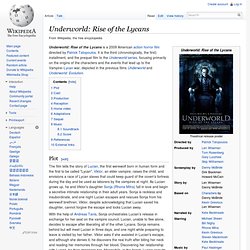 Sonja, hoping to spare Lucian's life, reveals to him that she is pregnant with Lucian's child. Disgusted, Viktor overpowers her and imprisons both her and Lucian. Sonja is unanimously sentenced to death by the council at a trial presided over by her father, and is executed by exposure to sunlight in Lucian's presence.
---