Underworld Trilogy
Kate Beckinsale is back as vampire heroine Selene in the highly anticipated sequel to Underworld. Underworld Evolution continues the saga of war between the aristocratic Death Dealers and the barbaric Lycans (werewolves). The film traces the beginnings of the ancient feud between the two tribes as Selene (Kate Beckinsale), the vampire heroine, and her love Michael (Scott Speedman), the lycan hybrid, try to unlock the secrets of their bloodlines. The tale of action, intrigue and forbidden love takes them into the battle to end all wars as the immortals must finally face their retribution. Screenplay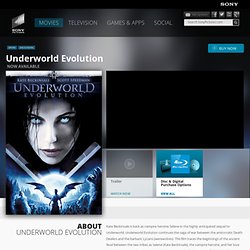 Underworld: Evolution - Official DVD Site
Underworld: Evolution - Elokuvateatteri.com
Toimivan ja synkähkön esikoiselokuvansa, Underworldin, jälkeen ohjaaja Len Wiseman avioitui Kate Beckinsalen kanssa, mutta nyt hän on palannut takaisin ohjaajan pallille Undeworldin jatko-osan myötä. Eikä tämä edes näytä riittävän Wisemanille, sillä seuraavan Die Hard -elokuvan jälkeen mies aikoo näköjään ohjata kolmannen Underworldin.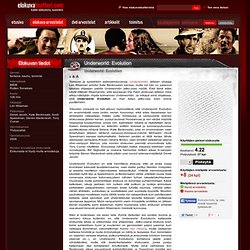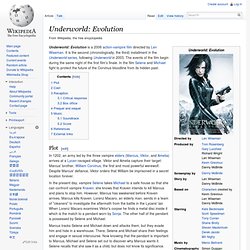 Plot[edit]
Underworld: Evolution
Underworld - Official DVD Site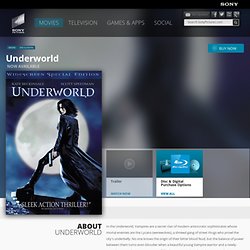 In the Underworld, Vampires are a secret clan of modern aristocratic sophisticates whose mortal enemies are the Lycans (werewolves), a shrewd gang of street thugs who prowl the city's underbelly. No one knows the origin of their bitter blood feud, but the balance of power between them turns even bloodier when a beautiful young Vampire warrior and a newly-turned Lycan with a mysterious past fall in love. Kate Beckinsale and Scott Speedman star in this modern-day, action-packed tale of ruthless intrigue and forbidden passion all set against the dazzling backdrop of a timeless, Gothic metropolis.
While reviewers generally received the film negatively, criticizing the overacting and lack of character development, a smaller number of reviewers praised elements such as the film's stylish Gothic visuals, the "icy English composure" in Kate Beckinsale's performance, and the extensively worked-out vampire–werewolf mythology that serves as the film's backstory. Selene arrives with a group of Death Dealers to kill the Lycans and Kraven for his treachery. Kraven shoots Lucian with a newly designed bullet intended to kill by poisoning a Lycan's bloodstream.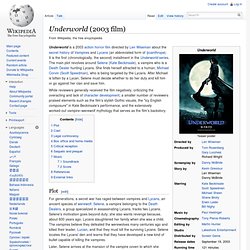 Underworld (2003 film)
Nahkaa, Kate Beckinsale, vampyyreita ja ihmissusia.
Underworld: Unrated Extended Cut DVD - arvostelu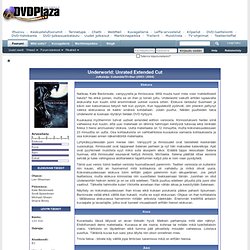 Underworld (film series)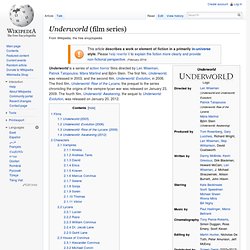 Blu-ray cover art of Underworld: The Legacy Collection, which includes all four films. As shown in the film, the original werewolves were uncontrollable beasts, unable to retake human form once bitten.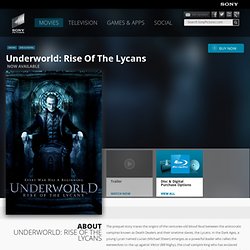 Underworld: Rise of the Lycans - Official DVD Site
The prequel story traces the origins of the centuries-old blood feud between the aristocratic vampires known as Death Dealers and their onetime slaves, the Lycans. In the Dark Ages, a young Lycan named Lucian (Michael Sheen) emerges as a powerful leader who rallies the werewolves to rise up against Viktor (Bill Nighy), the cruel vampire king who has enslaved them. Lucian is joined by his secret lover, Sonja (Rhona Mitra), in his battle against the Death Dealer army and his struggle for Lycan freedom. Screenplay Danny McBride
Kerta kaikkiaan aikaisemmat leffat nähneille turhauttava, ja muille aika turha pätkä vampyyrien ja ihmissusien taistosta.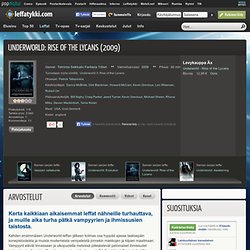 Underworld 3 - Ihmissusien nousu | Underworld: Rise of the Lycan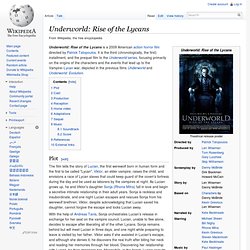 Plot[edit]
Underworld: Rise of the Lycans - Wikipedia, the free encyclopedi