Labs
Groupe France Télécom - Orange : innovation
Le2i - Laboratoire Electronique, Informatique et Image
Accueil LIP6
Swarmanoid, the movie
GIANT: Grenoble Innovation for Advanced New Technologies - GIANT
I3M - Laboratoire de recherche en Information et Communication
CITU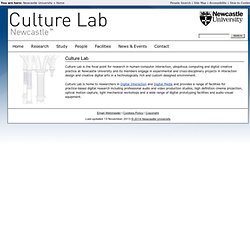 Culture Lab :: Newcastle University
Culture Lab Culture Lab is the focal point for research in human-computer interaction, ubiquitous computing and digital creative practice at Newcastle University and its members engage in experimental and cross-disciplinary projects in interaction design and creative digital arts in a technologically rich and custom designed environment. Culture Lab is home to researchers in Digital Interaction and Digital Media and provides a range of facilities for practice-based digital research including professional audio and video production studios, high definition cinema projection, optical motion capture, light mechanical workshops and a wide range of digital prototyping facilities and audio-visual equipment.
Fiche d'institution
LIMSI- Laboratoire d'Informatique pour la Mecanique et les Sciences de l'Ingenieur
New Media Innovation Lab | The Walter Cronkite School of Journalism and Mass Communication
In the Cronkite School's New Media Innovation Lab, journalism students work side by side with computer engineering, design and business students to create cutting-edge digital media products for regional and national media companies and other organizations.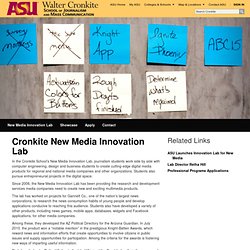 Hexagram-UQAM | Centre de recherche en arts médiatiques