Labs
Groupe France Télécom - Orange : innovation
Le2i - Laboratoire Electronique, Informatique et Image
Accueil LIP6
Swarmanoid, the movie
GIANT: Grenoble Innovation for Advanced New Technologies - GIANT
I3M - Laboratoire de recherche en Information et Communication
CITU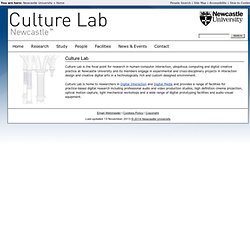 Culture Lab :: Newcastle University
Culture Lab Culture Lab is the focal point for research in human-computer interaction and digital creative practice at Newcastle University and its members engage in experimental and cross-disciplinary projects in interaction design and creative digital arts in a technologically rich and custom designed environment. Culture Lab is home to Newcastle University's Digital Interaction and Digital Media research groups and provides a range of facilities for practice-based digital research including professional audio and video production studios, high definition cinema projection, optical motion capture, light mechanical workshops and a wide range of digital prototyping facilities and audio-visual equipment.
Fiche d'institution
LIMSI- Laboratoire d'Informatique pour la Mecanique et les Sciences de l'Ingenieur
New Media Innovation Lab | The Walter Cronkite School of Journalism and Mass Communication
Christina Borrego edits a video in the New Media Innovation Lab. The New Media Innovation Lab is a research and development program designed to help media companies create new and exciting multimedia products. Operated by the Cronkite School, the lab brings together students from across campus – journalism, business, computer engineering and design. Beginning in 2006, the New Media Innovation Lab has worked on projects for Gannett Co., one of the nation's largest news corporations, to research the news consumption habits of young people and develop applications conducive to reaching this audience. Students also have developed a variety of other products, including an iPhone app and widgets and Facebook applications, for other media companies. Among these, they developed the AZ Political Directory for the Arizona Guardian.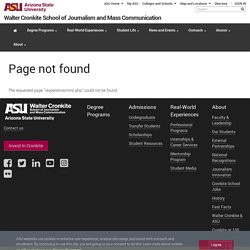 Hexagram-UQAM | Centre de recherche en arts médiatiques
f | t Imprimer L'École nationale supérieure des Arts Décoratifs développe une ambitieuse politique de recherche, avec son Laboratoire de Recherche, EnsadLab, créé en 2007. EnsadLab instaure au sein de l'École un pôle spécifique de réflexion et de recherche sur des programmes liés aux domaines de la création et de l'innovation, identifiés ou émergents, en relation avec les contextes sociaux, économiques, technologiques, politiques, industriels et culturels du monde contemporain. Couplant recherche et formation "à la recherche et par la recherche", préfigurant un troisième cycle et un niveau Doctorat, EnsadLab est constitué aujourd'hui d'une dizaine de programmes de recherche couvrant aussi bien les champs du design que de l'art, tels que le graphisme et la typographie, le design de services, d'objets ou d'espaces, les installations interactives, les espaces virtuels, les nouveaux matériaux, la mobilité, …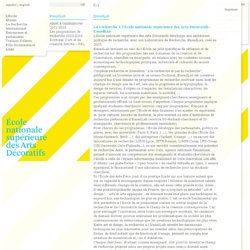 École nationale supérieure des Arts Décoratifs (EnsAD), EnsadLab