Labs
Groupe France Télécom - Orange : innovation. Le2i - Laboratoire Electronique, Informatique et Image. Accueil LIP6. Swarmanoid, the movie. GIANT: Grenoble Innovation for Advanced New Technologies - GIANT. Le Laboratoire | www.LeLaboratoire.org. Accueil. Accueil INRIA - Institut national de recherche en informatique et automatique.
I3M - Laboratoire de recherche en Information et Communication. CITU. Culture Lab :: Newcastle University. Culture Lab Culture Lab is the focal point for research in human-computer interaction, ubiquitous computing and digital creative practice at Newcastle University and its members engage in experimental and cross-disciplinary projects in interaction design and creative digital arts in a technologically rich and custom designed environment.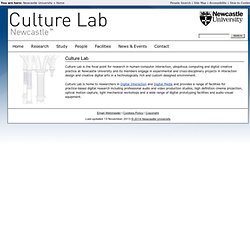 Culture Lab is home to researchers in Digital Interaction and Digital Media and provides a range of facilities for practice-based digital research including professional audio and video production studios, high definition cinema projection, optical motion capture, light mechanical workshops and a wide range of digital prototyping facilities and audio-visual equipment. Carnegie Mellon University. MIT Media Lab. IRI - Institut de recherche et d'innovation du centre pompidou, Accueil. Fiche d'institution. Médialab | Sciences Po - Accueil. LIMSI- Laboratoire d'Informatique pour la Mecanique et les Sciences de l'Ingenieur. New Media Innovation Lab | The Walter Cronkite School of Journalism and Mass Communication.
In the Cronkite School's New Media Innovation Lab, journalism students work side by side with computer engineering, design and business students to create cutting-edge digital media products for regional and national media companies and other organizations.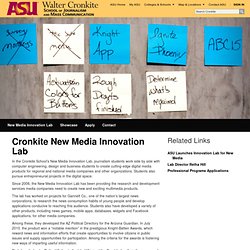 Students also pursue entrepreneurial projects in the digital space. Since 2006, the New Media Innovation Lab has been providing the research and development services media companies need to create new and exciting multimedia products. The lab has worked on projects for Gannett Co., one of the nation's largest news corporations, to research the news consumption habits of young people and develop applications conducive to reaching this audience. Hexagram-UQAM | Centre de recherche en arts médiatiques.
---