Graphic Design
WOW - window on web. Design Directory. TAXI: The Global Creative Network. WORKBOOK Photography & Illustration Portfolios, Creative Contact. HOWDesign.com - Graphic Design Forum. The time has come to close the legendary HOW Forums, but don't worry; there are so many ways to connect with HOW and with other designers these days!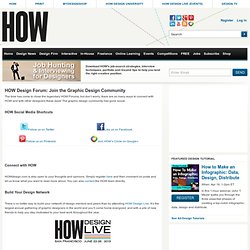 The graphic design community has gone social. HOW Social Media Shortcuts Connect with HOW. CreativePro | Graphic Design Software, Reviews, Tutorials, News, About Graphic Design - Graphic Design Tutorials, Tips and Career. Graphic Artists Guild - Home. Creative Latitude: Articles. Inspiration fuels our dreams; it unleashes our imagination so we can create, so we can think differently… Frankly, all of the practical information in the world is useless unless we're inspired to use it… because inspiration ignites creativity.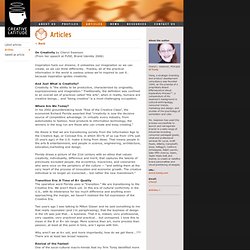 And Just What is Creativity? Creativity is "the ability to be productive, characterized by originality, expressiveness and imagination." Traditionally, the definition was confined to an overall set of practices called "the arts", when in reality, humans are creative beings... and "being creative" is a most challenging occupation. Where Are We Today? In his 2002 groundbreaking book "Rise of the Creative Class", the economist Richard Florida asserted that "creativity is now the decisive source of competitive advantage. Creative Latitude: Home.
BoDo: Business of Design online.
---