Macstuff
Magic Trackpad - Apple Store (UK)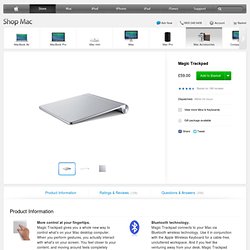 I received this with my 2012 iMac. I was a bit dubious of moving from a mouse to a trackpad but I needn't have been. From th e numerous gestures it has, its far more useful than a mouse, don't get me wrong, the mouse in certain applications that require fine control would probably be better. When surfing for example I can swipe left or right with two fingers to go back and forward pages, three finger swipe up show Mission Control. A two fingered left swipe from the right edge shows Notification Centre. There are numerous other gestures, some of which are on the back of the trackpad's packaging, but others can be easily found by doing a internet search.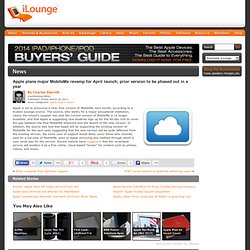 Apple is set to announce a new, free version of MobileMe next month, according to a trusted iLounge source. The source, who works for a major educational institution, claims the school's supplier has said the current version of MobileMe is no longer available, and that Apple is suggesting new students sign up for the 60-day trial to cover the gap between the final MobileMe shipment and the launch of the new version. In addition, the source was told that Apple will be supporting the existing version of MobileMe for the next year, suggesting that the new version will be quite different from the existing service; the extra year of support would likely cover those who recently paid for a full year of MobileMe, prior to Apple removing any method through which a user could pay for the service. Recent reports have suggested that the revamped service will position it as a free online, cloud-based "locker" for content such as photos, videos, and music.
Apple plans major MobileMe revamp for April launch; prior version to be phased out in a year
Rumors of new, free MobileMe service from Apple next month gain steam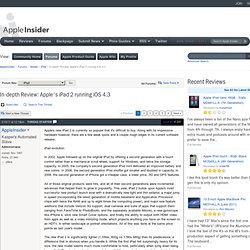 Apple's new iPad 2 is currently so popular that it's difficult to buy. Along with its impressive hardware however, there are a few weak spots and a couple rough edges in its current software release. iPad evolution In 2002, Apple followed up on the original iPod by offering a second generation with a touch control rather than a mechanical scroll wheel, support for Windows, and twice the storage capacity. In 2005, the company's second generation iPod mini delivered an improved battery and new colors.
In-depth Review: Apple's iPad 2 running iOS 4.3 - AppleInsider
Magic Mouse - Apple Store (UK)
iLife '11 - Apple Store (UK)
Microsoft Office 2011 pour Mac Édition Famille et Étudiant - Apple Store
Mac OS X 10.6 Snow Leopard - Apple Store (UK)
le stockage simple, rapide et performant
Depuis 1990, notre équipe de passionnés crée des solutions de stockage d'une qualité exceptionnelle à des prix attractifs et distribués exclusivement à une clientèle exigeante sur les sites www.macway.com et www.axtorage.com Le succès de ces produits auprès de consommateurs fidèles et les multiples récompenses obtenues dans la presse spécialisée d'année en année, traduisent un savoir-faire unique qui fait référence sur le marché. Forts de cette expérience et pour répondre à la demande croissante de produits de stockage de réelle qualité, nous réalisons aujourd'hui notre rêve en créant notre propre marque de produits de stockage: Storeva Storeva, c'est l'aboutissement du stockage tel que nous le rêvons aujourd'hui :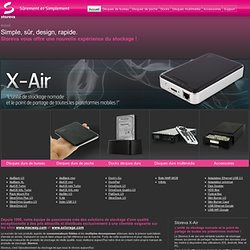 Tri par nouveauté - Kit boitier et disque dur externe à monter : Axtorage - Axtorage