Android
Developing In Eclipse, with ADT
Pour plus d'information sur Cr@zy WS , je vous invite à vous rendre dans la partie à propos où j'explique les grandes lignes de ce site consacré en grande partie à l'actualité Hack, Sécurité, High-Tech et Webdev. Newsletter et réseaux sociaux Pour suivre les dernières news du site, essayez les différents types d' abonnements disponibles et rejoignez-moi sur les réseaux sociaux. Cr@zy's Apps En dehors des scripts que je développe, il y a le sous-domaine Cr@zy's Apps qui est consacré aux applications externes que j'ai pu développer.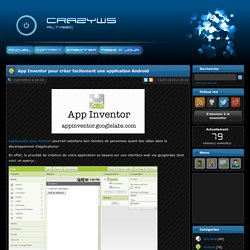 Erreur de chargement de la page
App Inventor is built on the idea that you do not need to be a developer to build great mobile applications. Instead of code, App Inventor allows you to visually design applications and use blocks to specify application logic. Use the GPS-location sensor to build location aware apps For example, build an app to help you remember where you parked your car. Make your apps communicate by using the phone functionality For example, build an app that periodically texts "missing you" to your loved ones.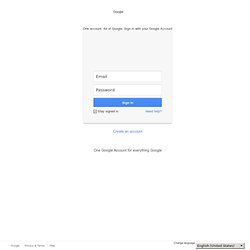 Erreur de chargement de la page
Google permet à toute personne le désirant de créer sa propre application Android et de la mettre sur son téléphone. Aucune connaissance en programmation n'est requise, alors pourquoi ne pas essayer? Et oui, vous avez bien lu, Google vient de publier une superbe news nous indiquant qu' il sera désormais possible à toute personne le désirant de créer son application Android en ligne ! Le petit nom de cette application web: App Inventor !