Projects That Need to be Done
An Amazing Tattoo Artist – Peter Aurisch. Peter Aurisch, a tattoo artist based out of Berlin, Germany, creates amazing one of a kind works of art that are unlike anything you've ever seen before.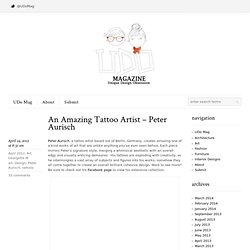 Each piece mirrors Peter's signature style, merging a whimsical aesthetic with an overall edgy and visually enticing demeanor. His tattoos are exploding with creativity, as he intermingles a vast array of subjects and figures into his works, somehow they all come together to create an overall brilliant cohesive design. Want to see more? Be sure to check out his Facebook page to view his extensive collection. Hb_C.I.53.40.5a-e_av1.jpg (450×637) I'd listen to her sew the phone book. Comics. 6) MAKING PRINTS!!!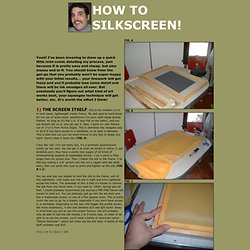 Actually, this is the fun part. Here is where your screen is fully prepared and you can actually start printing. Your screen should be totally dry, and you can use tape (masking, duct, anything) to help seal off the edge of your screen (FIG. M). This will just make things easier when you print (i.e. ink won't be collecting under the wood pieces etc.) and will also cover up pinholes and other unwanted holes in the emulsion. Belovedthings.typepad.com/blog/2011/10/5-tips-for-using-watercolors.html.
Top 10 examples of brilliant shadow art (Pic) | Daily Dawdle - StumbleUpon. "Tear Off" Wallpaper by ZNAK | Design Milk - StumbleUpon. 101 Crafty Gifts - StumbleUpon. To make all of these Instructables, download this collection of How To's as an ebook.
Download » 101 Crafty Gifts is a collection of simple, beautiful gifts you can make! We Are All Part of the Same Thing. Australian artist Dominique Falla created this fantastic thread and nail poster as an entry for this year's Positive Posters competition.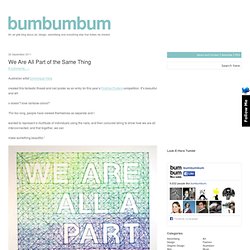 It"s beautiful and wh o doesn"t love rainbow colors? Homemade Light Box for Product Photography & StudioLighting.net. The object of product photography is to show details of an object clearly.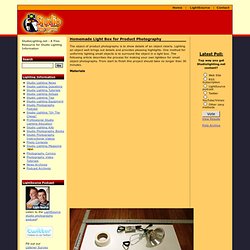 Lighting an object well brings out details and provides pleasing highlights. One method for uniformly lighting small objects is to surround the object in a light box. Maria-Luisa (dite Coré) In this design, John Galliano for Dior combined the elements of a robe à la française with the vast crinolined silhouettes of the mid-nineteenth century.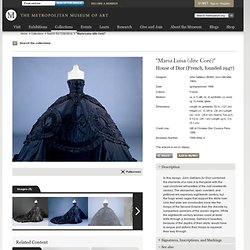 The stomacher, open overskirt, and petticoat are expressly eighteenth century, but the huge wired cages that support the skirts over nine feet wide are constructed more like the hoops of the Second Empire than the discrete by comparison panniers of the ancien régime. While the eighteenth-century woman could at least sidle through a doorway, Galliano's beauties, because of the depths of their skirts, would have to torque and deform their hoops to squeeze their way through. "Chambord" - StumbleUpon. Sculptures Popping Out of Paintings - My Modern Metropolis - StumbleUpon. Oh, to have been in Tokyo in June!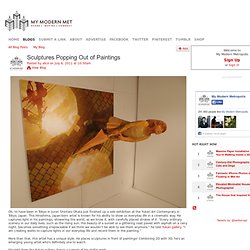 Shintaro Ohata just finished up a solo exhibition at the Yukari Art Contemprary in Tokyo, Japan. This Hiroshima, Japan-born artist is known for his ability to show us everyday life in a cinematic way. He captures light in his paintings, showering the world, as we know it, with carefully placed strokes of it. Chan Hwee Chong Makes Spiral Illustrations with a Single Line | Oddity Central - Collecting Oddities - StumbleUpon. In one of the most impressive advertising ideas I have ever seen, Singapore-based art director and designer Chan Hwee Chong uses a single long line to create spiral recreations of famous artworks.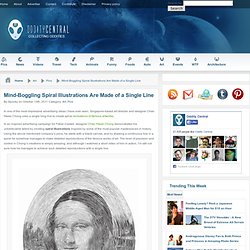 In an inspired advertising campaign for Faber-Castell, designer Chan Hwee Chong demonstrates his unbelievable talent by creating spiral illustrations inspired by some of the most popular masterpieces in history. Using the above mentioned company's pens, he starts with a blank canvas, and by drawing a continuous line in a spiral he somehow manages to make detailed reproductions of the famous works of art. Make a Ringlet T-shirt Scarf for Fall. This little ringlet scarf made out of old t-shirts is so fun for fall!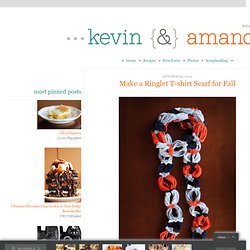 There's no sewing involved (hallelujah!) , and you can make it while sitting in front of the TV in less time than it takes to watch a really good, trashy show on E. Since I have an abundance of orange and blue Auburn shirts (and we go to a lot of the crisp, fall football games) I decided to go with Auburn colors. This scarf goes together so fast and is basically free to make – it's perfect to wear in support of your favorite team!
---