Headbands
DIY: felt flower brooch / Sheepy Me. This Friday instead of Little box of treasures I decided to make a nice project.
I love anything floral so here's an easy way to make yourself a pretty flower from felt. If you don't have any felt I'm pretty sure that fabric will also do. When your flower is done you can decorate it with whatever you like. I've chosen a stone bead for the center of the flower and cut some tule leaves. The length of my wool felts were 35cm (14 inches), the width - 4cm (1.6 inch). Double Strand Lace Headband.
Today's headband DIY is how to make a Double Strand Headband.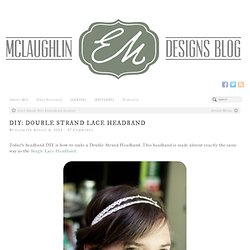 This headband is made almost exactly the same way as the Single Lace Headband. All you need is 36 inches of lace or ribbon 1 inch width or narrower. Headband tutorial. What you need: -Flower petal template- located HERE-Sheer fabric-Felt-Permanent fabric glue-Headband (wide bands work best)-Scissors-Cardstock What to do: -Print the template on cardstock and cut out -Trace template onto fabric: 12 Large, 20 Medium, 3 Small To make the large flower: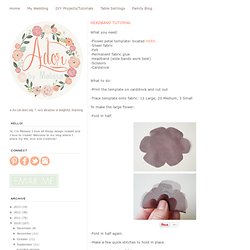 Braided Bohemian Headband. Another headband tutorial!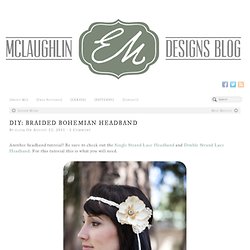 Be sure to check out the Single Strand Lace Headband and Double Strand Lace Headband. For this tutorial this is what you will need. DIY Criss-cross headband. My addiction to insanely simple DIYs continues.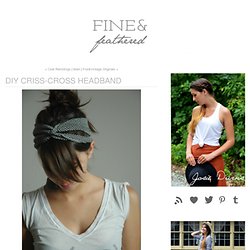 I threw this together today and thought I'd share:) 1. Take a long strip of fabric (preferably some type of stretchy fabric) 2. Position the middle of the fabric strip at the base of your neck 3. DIY Not-so-nautical rope headband. I know I am way late in the season to be doing a nautical themed DIY but my favorite craft store just got in some cute rope cording and I had to do this DIY.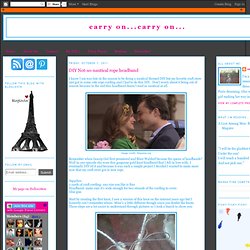 Don't worry about it being out of season because in the end this headband doesn't read as nautical at all. Remember when Gossip Girl first premiered and Blair Waldorf became the queen of headbands? Well in one episode she wore this gorgeous gold knot headband that I fell in love with. I eventually DIY'ed it and because it was such a simple project I decided I wanted to make more now that my craft store got in new rope.Supplies- 2 yards of craft cording- any size you like is fine Headband- make sure it's wide enough for two strands of the cording to cover.
Glue gun. Re-purposing: Tshirts into 5-strand-braided-headbands. I was walking through Target a few weeks ago and noticed this little knit fabric headband that was not just braided together…….but woven.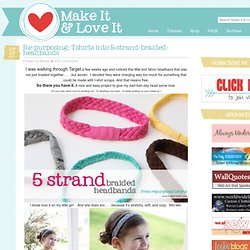 I decided they were charging way too much for something that could be made with t-shirt scraps. And that means free.
---