Fashion
Comb your hair carefully to eliminate any tangles or knots. Take some hair from the top of your head. 3. Tie off this hair with a hair elastic. 4. Don't pull off the ends.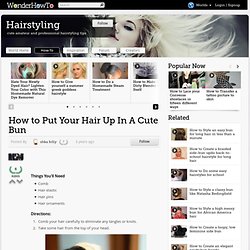 25 Ways To Wear A Scarf.
Braided Updo Tutorial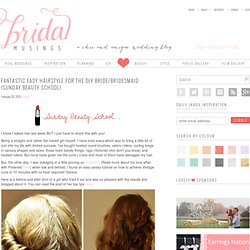 I know I talked hair last week BUT I just have to share this with you! Being a straight and rather flat haired girl myself, I have tried every which way to bring a little bit of curl into my life with limited success. I've bought heated round brushes, velcro rollers, curling tongs in various shapes and sizes, those foam bendy things, rags (Victorian chic don't you know) and heated rollers. But none have given me the curls I crave and most of them have damaged my hair. But, the other day, I was indulging in a little pinning on Pinterest .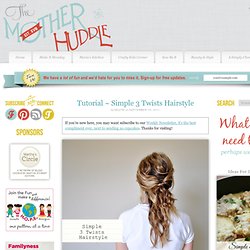 First, a little back story: I was on Pinterest (I know, big surprise) awhile back and Ms. Ez from Creature Comforts pinned a fun messy hair-do , and mentioned she needed to learn how to do it. So I piped in that I should show her how. I have been wanting to do a hair tutorial for ages now, so this was the perfect reason to get it done.
all photos: Kristin Ess + thebeautydepartment.com post designed by kristin ess Lots of emails this week asking for a tutorial on Lauren's temporary bright colors. Here I've replicated the process for you in 7 steps on an extension. While I never recommend bleaching out the ends of your hair at home, if you want to do the fun colors yourself, maybe get the tips bleached out by a pro + then play with the temporary colors on your own.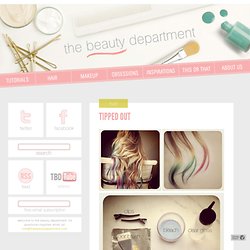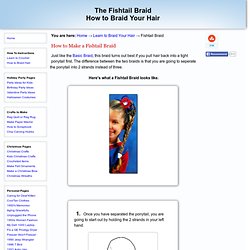 You are here: Home → Learn to Braid Your Hair → Fishtail Braid Just like the Basic Braid , this braid turns out best if you pull hair back into a tight ponytail first. The difference between the two braids is that you are going to seperate the ponytail into 2 strands instead of three.
How to Make a Fishtail Braid
Products | Wicked Clothes
I wore a more relaxed version of this hair style in an outfit post in June of 2009 but for reasons unbeknownst to me, I never did a tutorial for it. Recently though, a few of my lovely readers have asked for it ...so here it is. Enjoy * * * it would be so pretty with flowers pinned in * * * * . . . wearing the braid out . . .